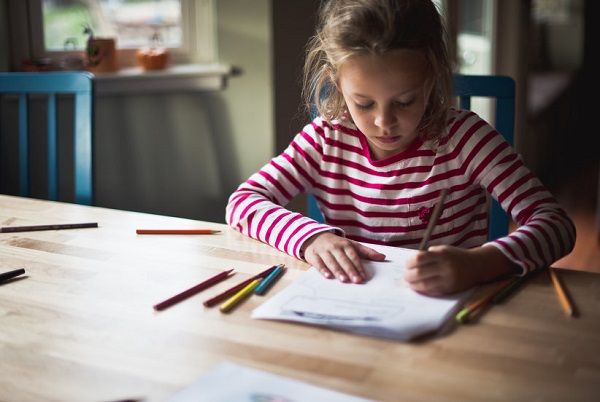 Going back to school after a holiday break is always tough. Getting your kids to dive back into that pile of math worksheets and book reports when they'd rather be playing with their new toys or watching YouTube? Torture. To help ease everyone through the transition, we asked moms for their best tips on how to get the kids to focus on their homework—no screaming, pouting, or bribery involved.
Be a study buddy.
"Remember how much more fun it was to be in a study group in college or high school? You can be your child's study buddy. Plan 30 minutes a day when you sit at the kitchen table and work together. Your child can do homework and you can catch up on work you brought home, write out shopping lists, or do whatever it is you can get done in a half hour. Your child can continue on if needed after you've finished, but getting started is always the hardest part." —Tracey Hecht, a New York City mom of one
Let them run off their excess energy first.
"I make sure my kids have an hour or so of play time outside with their friends right when they get home. Another mom once told me that because they're cooped up so long in a classroom each day, trying to obey all the classroom rules, kids need some time to let off steam when they get home. This is especially helpful for our son, who seems to be better able to focus on homework after he has run around with his buddies." —Erin Myers, a Baltimore mom of two
Use fun props.
"On the days when my 7-year-old daughter is feeling less eager to get her homework done, I've found it helpful to incorporate fun bits of home life into homework. For example, learning subtraction with M&Ms or using her alphabet puzzle to help learn alphabetization makes it feel less frustrating and more fun." —Larissa Pickens, a New York City mom of one
Get out of the house when you can.
"I alternate where my kids do their homework and I find it helps keep them motivated. For example, on certain days we go to the children's section of the local library. The result: Inspiration from other children doing homework!" —Melva E. Pinn-Bingham, a Chesapeake, VA, mom of three
Create a kid-friendly workspace.
"A homework station is a low-tech solution that cuts down on clutter, time and waste. It's a one-stop-shop to find what you need, when you need it. In our home, the kitchen table is our family hub. It's the spot where my daughters do their homework each evening and we use magazine holders for activity books, library books and homework sorting and pencil cases to keep supplies separated but contained." —Rachel Rosenthal, a Washington, D.C., mom of twins
Set a timer.
"When one of my kids starts complaining about how long their homework will take, I set a timer for 15 minutes, and tell that child to work as hard as he or she can until the timer goes off. More often than not, the dreaded homework assignment is finished in less than 15 minutes. Then I get to point out that they spent more time complaining about the homework than it took to just do their homework!" —Maureen Paschal, a Charlotte, NC, mom of four
This article was written by Lambeth Hochwald from Real Simple and was legally licensed through the NewsCred publisher network. Please direct all licensing questions to legal@newscred.com.