Summer is Upon Us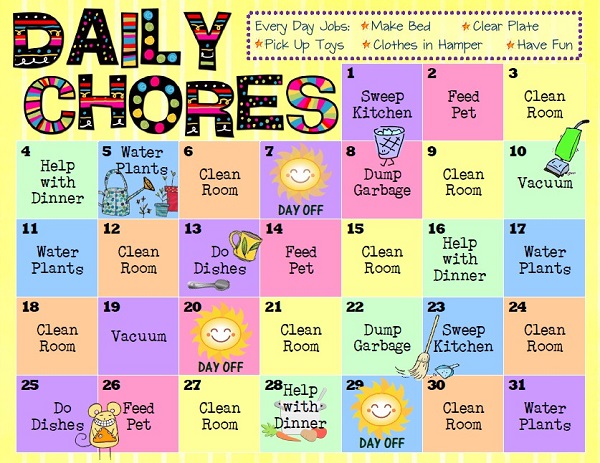 The kids are out of school – now what? Summer camp, summer school, amusement parks, sleep ins, sleep overs, party, pow wows at the park, extended weekends, family reunion, vacation, family time… But what about those chores? The ones that you hardly have time to complete all on your own. The ones that you've been hanging onto since the first day of Spring.
Growing up for me, a country girl- Alabama, chores were apart of a daily routine. They didn't just happen during the 3-month summer vacation from school. They weren't assigned as a weekend only type deal. There was work to be done, every single day of the week. Our chores may have increased on the weekend and during the summer, but days were never absent or short of the responsibility to complete chores.
From raking the leaves in the front and backyard, to vacuuming the house, polishing silver, Windex the glass, washing dishes, mopping the floor, putting away the dishes, dusting the furniture, cleaning our rooms, doing the laundry and helping in any other way around the house. Sometimes that meant rearranging furniture with my OCD dad.
Doing chores almost super exceeded extra curricular activities outside of the house. The responsibility of doing chores, topped the "most important thing to do in the Kenny household', list. Nice and tidy. My mother and father ran a tight ship. Dad with his strict set of rules sometimes leaked over into just how perfectly the bed had to be made- a chore in and within itself.
There was never anything in place to make these chores fun. And as a rule of thumb, the values that were impressed upon us came with understanding a chore, as responsibility and no rewards are given or to be expected, for doing what you are supposed to do anyway.
While that idea has stained itself on my way of parenting, I have decided to add some spice to the value; without loosing the flavor. Meaning, I do think it's ok to reward good behavior … And I do think you can still maintain the value in the lesson of doing what's required, without expecting rewards. And because I think most people do a better job at anything, when they feel appreciated.
Here are a few things to consider, that I've personally improved the chore system, to make it something fun, while rewarding and teaching. Wax on… Wax off…. (Some of you know exactly where that comes from) and that's why I know now, that doing my chores as a child, was not all for nothing. "First learn stand, then learn fly. Nature rule Daniel son, not mine" Mr Miyagi
Competition — Make it a race. A fun- Family-friendly, race. One that encourages friendly camaraderie.
They have to do the chore anyway- bottom line. So how about a lesson within the responsibility. How about, maximize the learning opportunity by introducing concepts. Concepts of winning, loosing, completion, efficiency, accuracy, effectiveness. Inspections after the chore can determine this and if can be rated on a star scale. If you have more than one child, you can assign responsibilities that are age appropriate and place them in in a track bracket. Who can make it to the 100-yard finish line?
In implementing this competitive route to doing chores, I think it teaches perspective team work, creative ways of doing things, allowing them to maneuver through the task and find what works best. I think it helps them to develop the right attitude and perspective on handling assignments that will be competitive assigned to later; without being sore losers or overly aggressive obnoxious winners.
(Keep the discussion of wins, loose or draw, nearby. So that your child doesn't feel like they are a looser and so that they won't misunderstand the benefit of the lessons). "It's ok to lose to opponent. It's never okay to lose to fear" Mr Miyagi
One mom said, "there are no losers" and while I agree when it comes to children, we can't extract that from the fact that there are times in life where they will not finish first. There are times where it's going to be very clear that the best is who will be chosen. We cannot ignore that, out of the fear that we are teaching our children to compete. Stay with me on this.
Goal markers (100 yard line markers) (3 point basketball shots) (point system) how many points do they need for 10$ to go to the movies on Friday (teenager) how many points to go to get ice cream on Saturday (toddler) you're taking them for ice cream anyway and you are also giving your teenager money for movies anyway… Why not make them earn it?
Make it a board game like monopoly – replacing the monopoly spaces with places your child of teenager wants to go, or with things they want or with things that you want your child to do. Don't sleep on books. Books are rewards too. Dinner certificates, Gift certificates, amazon gift certificates for teenager or even smaller children, mani pedi for girls, spa day, golf lessons, track sessions, gift bags, swag bags, gift sets with educational material. The list goes on.
I've placed things like (get out of jail free) if you make it there from performing chores, then you may have an extra hour on curfew or an extra $10 to go out Friday or a ticket to a ball game etc. big and small items can go on the board and it can be customized to your pocketbook. Creative things that cost nothing can be placed on the board. Prizes -small and creative. Allowance- incentive -Rewards- (movie, outdoor activity of child's choice, healthy cupcake etc. Praise – make sure to congratulate and uplift them, by telling how important it was. Assigning chores, gives responsibility and the act of successfully completing it makes them feel great!
"The more that you read, the more things you will know. The more that you learn, the more places you'll go." ― Dr. Seuss, I Can Read With My Eyes Shut!
This article was written by Niedria D. Kenny from Working Mother and was legally licensed through the NewsCred publisher network. Please direct all licensing questions to legal@newscred.com.