10 Ways to Empower Your Daughter to Be a Leader in STEM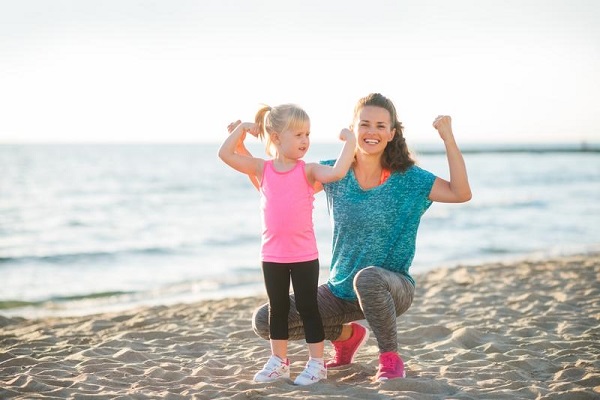 Try these tips to help her overcome the typical barriers girls face.
We all know there is a gender gap in STEM. Women hold about 24 percent of STEM field jobs in the United States, and when you get into the leadership ranks the numbers are paltry. Even in the movies, only 12.5 percent of characters with STEM careers are female. Luckily, many groups—including my own, VentureLab—are working hard to engage girls in both STEM and leadership. Here are 10 ways you can get involved at home to empower your daughter to be a leader in STEM.
1. Encourage curiosity and experimentation.
Encourage your daughter to ask Why, How and What if…? If she asks a question like "how do clouds make thunder?," go online with her to find the answer and the science behind it. Check out YouTube and find some easy to do at-home science experiments, like making slime out of various household materials. Even cooking together and trying different ingredients is a good way to experiment. A curious mind will not be afraid of trying new things and will not be afraid of asking questions that might lead to new innovations.
Take on the mentality of a maker. Instead of buying something or waiting for someone to solve a problem, do it yourself. You can set up a mini maker space or crafting table in your house dedicated to creativity and messiness. Create a space where girls can explore their hobbies, experiment, and create. A maker's space doesn't need to be expensive. Use recycled cardboard, Styrofoam, yarn, art supplies, and any kid-friendly tools lying around your house. Girls who make things will learn to find resourceful ways of solving problems and will become doers and leaders.
3. Encourage a growth mindset.
Compliment girls' efforts, not their intelligence. A growth mindset means that our brains can change and grow: we learn new things by practicing. When girls hear things like "You are so smart" they tend to believe that being smart is innate and not changeable. So, when they receive a not-so-great grade they believe they have failed. Instead, compliment girls' efforts by saying "You worked really hard" or "I'm so proud. You didn't give up on that math homework." By complimenting girls' efforts, we are priming them to do hard work and remain persistent despite challenges.
4. Make her "failure resistant."
Redefine what she thinks of as failure. Help girls learn that everyone fails. It's how you deal with failure that makes all the difference. When something doesn't go according to plan, emphasize that failure is a part of the learning process! Failure is about testing hypotheses and practicing until you have mastered a skill. Give examples of times that things haven't gone as well as you expected them to. If they are struggling because they are being challenged, that's because they are trying something new!
5. Put her in front of people and ask for what she wants.
Help girls develop a more powerful presence by teaching them how to interact with adults and others. At home, practice with girls and show them how to introduce themselves, shake hands firmly, and make eye contact. At restaurants, have your daughter order for herself. The ability to confidently introduce herself and ask for what she wants will set her apart from the rest and serve her well later in her career.
6. Encourage her ideas and focus on her strengths.
In general kids are used to not having their ideas heard, so go ahead and encourage girls' ideas no matter how silly or impractical they sound. Have her write her ideas down in an Idea Journal and get involved in the process if she is interested in pursuing a project. Even if her idea doesn't work, she'll know that she has your support and will keep trying new things. And if you see that your girl has strengths in math, science, art, or whatever it might be, encourage her to pursue those areas and sign up for classes or camps that will hone her skills. A little bit of encouragement goes a long way for girls and will set them up for success.
7. Find role models and mentors.
Sometimes it's hard to picture yourself doing something until you see someone like yourself doing it. This can be particularly challenging in the STEM fields. Reach out to local women scientists and engineers and ask if they will speak to your daughter about their field of work and their experiences. If you don't know any women scientists or engineers, check out FabFems.org for female STEM role models. And you can always study women role models from the past and present, like Mae Jamison, the first African American woman astronaut, or Mary Barra, engineer and CEO of General Motors. Such models help inspire girls and show them that they too can pursue STEM fields.
8. Solve meaningful problems around you.
Girls become more engaged in STEM when they see how it can be applied to helping people and the planet. Help girls link math and science to real-world problems. Support her and get involved, whether she wants to help build houses for Habitat for Humanity or just build a birdhouse. Show her how engineering and math is involved. Or maybe she is interested in the environment and sustainability and wants to build a hydroponics unit. Discuss the science behind hydroponics and plant growth.
9. Just play!
We tend to take kid's play for granted, but so much learning, experimentation, and creativity comes from play. With play there is no judgement, no fear of failure, and often no right or wrong answers. Yes, some games have winners and losers, but it is part of teaching rules and strategy. Expose girls to tech toys, like Ozobots or Dash and Dot, to learn about coding. Play with Snap Circuits or littleBits to create all sorts of electronic inventions. Build with Legos and toys that use the imagination. Even cardboard boxes are great to play with and turn into forts, or she can create her own games out of recycled cardboard. Learning through play is a great way to internalize important concepts and stimulates the whole brain.
10. Watch unconscious bias and gender learning differences.
Even if STEM isn't your forte, be mindful of how you speak about it. If they hear, "We're just not math people" or "Science is hard," kids pick up on these cues. Approach STEM with a curious mindset and learn with your daughter. As parents, we may also unconsciously steer our daughters away from adventure and experimentation. We tell boys to go climb trees, but we tell our girls not to get their dresses dirty. These messages affect the way girls see themselves and what they should and should not be doing. Help empower girls to enjoy STEM and be adventurous risk-takers.
This article was written by Cristal Glangchai Ph.D. from Working Mother and was legally licensed through the NewsCred publisher network. Please direct all licensing questions to legal@newscred.com.