The (Proven) Best Activity You Should Be Doing with Your Kids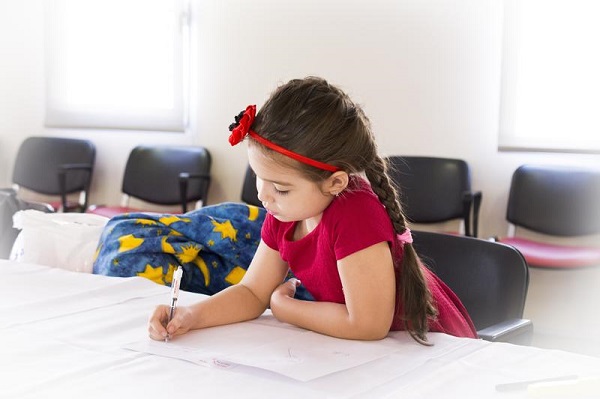 There have been numerous research studies demonstrating that one of the most beneficial activities you can do with your children is consistently eating dinner together. The benefits of eating dinner together as a family are wide-ranging and important.
Eating dinner together helps improve the vocabulary of young children because the children are exposed to a wider and more difficult set of words than in their usual environments. To be fair, the study included all family meals together, not just dinner. It also showed that frequent meals together boosted vocabulary even more than being read to aloud. Young children were exposed to more than 1,000 rare words at meal time, compared to only 143 from parents reading books out loud. As an added benefit, kids with larger vocabularies start reading at an earlier age and with less difficulty than other children. Mealtime talk, especially during dinner:
"often incorporates discussions and explanations of current events, world knowledge, and even abstract general principles…mealtime talk constitutes an opportunity for the problems of everyday life and proposed solutions to be discussed, often in the context of stories."
Older children also benefit intellectually and emotionally from family dinners. Enjoying regular family dinners is a powerful predictor of high test scores – it's a better predictor than time spent in school, doing homework, or time playing sports.
Most importantly, it's also hugely beneficial to the emotional state of adolescents and teenagers. There are a number of studies demonstrating regular family dinners reduce a number of high risk teen behaviors. In one study, entitled Family Dinner Meal Frequency and Adolescent Development: Relationships with Developmental Assets and High-Risk Behaviors, there is a significant reduction in high risk behaviors – alcohol, tobacco, illicit drugs, sexual intercourse, depression-suicide, antisocial behavior, violence, school problems, binge/purge eating, and excessive weight-loss – all from consistent family dinners. Another study demonstrated a lower rate of depression and suicidal thoughts is associated with regular family dinners.
Aside from the prevention or reduction of negative behaviors, there is a strong association between regular family dinners and good behaviors, such as a strong association with good moods in teenagers, an optimistic outlook of the future.
Now that we know how important family mealtimes are for children, what's the best way to institute this in a household with working mothers or a household where both parents work? The key is to cut down on time spent preparing the meal and cleaning up after the meal is over, in order to maximize the time and quality of the meal.
One of the best ways to save time preparing the meal and cleaning up, and maximizing the time spent actually enjoying dinner with your family, is to look at the large catering platters and party platters from grocery stores. For example, Walmart party tray prices are extremely reasonably priced when looked at on a per-meal basis. A typical party tray will feed my family for 2-3 dinners, and has a wide variety of items so no one gets bored. The cost per person per meal can be as low as $1-2.
The best part is that there is almost no cleanup and no preparation time. This helps create a stress free environment where I can focus on listening to my children and learning about their lives, while sharing stories at dinnertime. On days where I do cook dinner, I usually end up being stuck in the kitchen and missing out on most of the conversation, and at the same time, it takes much longer for me to prepare the food and then cleanup afterwards.
For health conscious mothers, Costco offers similar party platters and has recently become the world's largest seller of organic foods, prime meats and other high quality food products. I've spoken to Costco staff and it's clear to me that they use the same high quality ingredients in their platters as they sell on their shelves.
Eating family dinners together as frequently as possible is clearly one of the best activities you can do with your children. As a working mother, it's critical to prioritize and maximize high quality activities with the family. In the case of dinner time, the most important activity isn't food prep or cleaning, it's actually sitting down with your children during the meal, chatting with them and listening to them. One of the easiest and most cost effective ways to do this is to shop in the catering isles at large grocers.
This article was written by Natalie Bracco from Working Mother and was legally licensed through the NewsCred publisher network. Please direct all licensing questions to legal@newscred.com.