How to Get Everyone to the Table for a Family Meal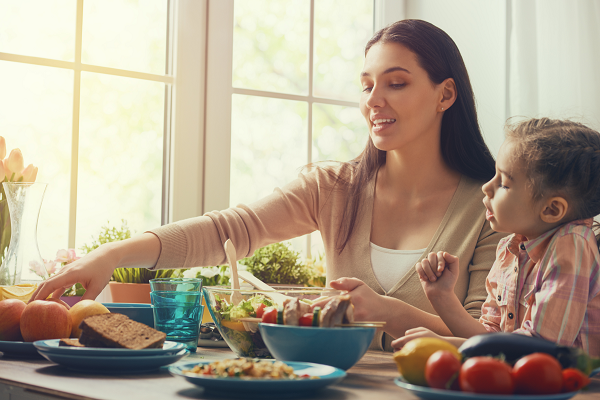 Real-world ideas for making dinner together happen—even when everyone has a different schedule.
Find Another Time
Don't focus on the meal; focus on the time to come together. It can be breakfast, after-school snacks, dinner—find what works for your family. I did 10 p.m. snacks when my girls were in high school because that was when they'd be getting home from sports or work or hanging out with friends. We had 15 to 30 minutes to just catch up on the day and the dramas that make up teenage life.
—Rhonda Mccreary-Utledge, Fort Worth, Texas
Serve a Big Batch
Make the healthiest casserole you know. Arrange whole fresh fruit on the table and call it a day. (My secret chili contains a big bunch of pureed kale, and no one has yet to discover it!)
—Pat Satterfield, Cranberry Township, Pennsylvania
Aim for Healthy
I have two kids in two different schools and on multiple sports teams, so there are days when we're not all home to eat together. I've learned to make soup and/or salad with leftover chicken on those nights. That way we get veggies and protein, and we aren't spending too much money or compromising nutrition by eating fast food.
Heather Sustman Golden, Houston
Make It a Must
Family dinner is a priority in our house. Even if it's for cereal or sandwiches, we sit together. We eat when everyone is home—6 p.m. some nights, 9 p.m. other nights.
Jenn Mcavoy Fahy, Lagrange, New York
Tacos Always Win
I make a batch of taco meat and all the fixings and have tortillas ready to be warmed up when people are ready to eat.
Kristin Lupo, Stratford, Connecticut
Don't Overthink It
Order. Pizza. Done.
Rachel Ross Faris, Erlanger, Kentucky
This article was written by Real Simple Staff from Real Simple and was legally licensed through the NewsCred publisher network. Please direct all licensing questions to legal@newscred.com.