The Best Summer Activities for Kids in Every Single State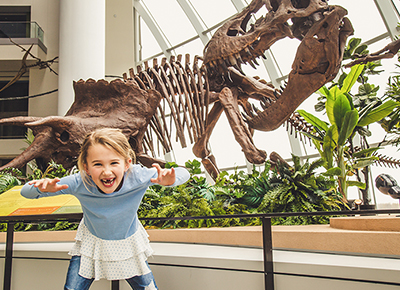 School is on hiatus 'til fall, which means you've got approximately 10 weeks to keep the youngest members of your household happily entertained. Don't worry, we've got your back with this epic list of the coolest activities for kids of all ages in every single state.
Alligator Alley
Alabama: Alligator Alley
Um, this might be the only place in the U.S. where your kids can safely hold an alligator. (There are 450 on site at this alligator rescue farm in Summerdale and guided and self-guided tours are available.)
Alabama: Gulf State Park
Your kids will love having ample opportunities to unplug as they bike, swim, fish and camp in this gorgeous park on the Gulf of Mexico, complete with two miles of pristine beach. (Just be sure you make campground or cabin reservations in advance.)
Alabama: U.S. Space and Rocket Center
This museum in Huntsville has the largest collection of rockets and space memorabilia anywhere in the world. It also has super-cool simulators like the space shot (kids can rocket 140 feet straight up in less than 2.5 seconds) and the G-force accelerator (so kids can experience three times the force of gravity).
The Reindeer Farm
Alaska: The Reindeer Farm
Sure, it's not Christmas yet, but just picture the joy on your kids' faces when they get to pet, feed and ask hard-hitting Santa questions of actual reindeer at this farm, located about 45 minutes northwest of Anchorage. (There are also picnic tables so you can pack a lunch and hang out all day.)
Alaska: Byron Glacier
Come on, where else in the U.S. can your kids get up close and personal with an actual glacier? OK, so it's a mile-long hike, but once you arrive at this spot on the Prince Island Sound, it's quite breathtaking. (And thanks to global warming might not be there that much longer, so go now!)
Alaska: Thunderbird Falls
This stroller-accessible hike in Anchorage is just one mile in length and—barring a few steep spots—is very family-friendly. Plus, the pay-off is huge: At the end of the trail is a dramatic, 200-foot waterfall that will leave your kids in complete awe of a different mom: Mother Nature.
We Who Roam
Arizona: Salt River Tubing
For kids ages eight and up, the Tonto National Forest (dubbed a "mini Grand Canyon") is a sight to be seen, especially from the water. Pack a lunch and relax as you float down the refreshing mountain water stream.
Arizona: Museum of Natural History
In addition to an indoor, three-story Dinosaur mountain with a simulated flash flood, there's air conditioning at this Mesa museum—a win-win for the dino-lover in your fam.
Arizona: Wet 'n Wild Phoenix
Did we mention Arizona is hot during the summertime? Wet 'n Wild is the ultimate cool-off zone, complete with epic water slides, a lazy river and more.
MILB
Arkansas: Arvest Ballpark
Home to minor league baseball team the Northwest Arkansas Naturals, this Springdale ballpark brings over 70 home games—not to mention festivals, fairs and family fun days—for kids to enjoy all season long.
Arkansas: Blanchard Springs Caverns
Some parts of these caves, located in the Ozark-St. Francis National Forest, took shape over 350 million years ago. Your kids will love peeping the rock formations (and tiny cave creatures like salamanders) as they tour the area. Bonus: The underground temp stays at a cool 58 degrees, perfect for summer.
Arkansas: Turpentine Creek Wildlife Refuge
This 450+ acre park in Eureka Springs is home to over 100 abused, neglected and abandoned big cats—bobcats, ligers, cougars and leopards included.
Disneyland
California: Disneyland
Steep entry fee aside, you really can't go wrong planning a day (or week) long trip to the OG home of Mickey Mouse. (PSA: Don't forget you've got California Adventure across the way.)
California: Safari Park
This 1,800-acre wildlife refuge operates next to and in partnership with the San Diego Zoo (another places worth visiting if you have time), but it's the only spot where you can see animals ranging from cheetahs to lions to zebras roam free, from a safari tour.
California: Yosemite National Park
A national landmark since 1864, there's no end to the kid adventures—including getting sworn in as junior rangers—that can be had within the park's 1,200 square miles of valleys, meadows, wilderness and more. Just be sure to plan your visit (and book a campsite) in advance.
Garden of the Gods
Colorado: Garden of the Gods
This popular park in Colorado Springs features breathtaking geological formations, plus rock climbing and nature trails. Just keep in mind that for summer, there's not a ton of shade.
Colorado: Santa's Workshop
Visiting Santa in July feels like a misnomer, but it's actually the perfect time of year for a Christmas-centric theme park filled with a range of outdoor rides. And, hey, if you happen to get a pic with Santa at this Cascade hotspot (located 20 minutes from Colorado Springs), you can nail down your holiday card four months in advance.
Colorado: Yogi Bear's Jellystone Park
Located in Estes Park, this campground—named after cartoon character Yogi Bear—is right in the heart of the Colorado Rockies. And while your kids can get their fill of nature, there's also lots of other activities on site including a heated pool, mini golf, a game room and more.
Mystic Aquarium
Connecticut: Mystic Aquarium
In addition to beluga whales, African penguins and sharks, a special exhibit on dinosaurs—featuring 12 animatronic creatures—just recently opened.
Connecticut: Lake Compounce Theme Park
It's a summer throwback—take your kids to the oldest continuously operating amusement park in the United States. (Complete with its own kiddie coaster and antique carousel.)
Connecticut: Southington Drive-In Movie Theater
Speaking of throwbacks, your kids will love the thrill of seeing a movie outdoors from the comfort of your car. The summer lineup was just released with films ranging from The Sandlot to The Princess Bride.
Air Mobility Compound Museum
Delaware: Air Mobility Compound Museum
This free museum at Dover Air Force Base showcases some of the U.S. Air Force's largest (and no-longer-in-use) aircrafts. Watch your kids lose their minds as they get to the know the ins and outs of aerodynamics while walking all around these massive planes.
Delaware: Gardens at Winterthur
This museum/library/garden is home to one of the biggest collections of Americana in the U.S. It also features 1,000 kid-friendly acres of outdoor space including an area called the "Enchanted Woods," which gives kids an opportunity to explore the world of fairies with attractions like the Troll's Bridge.
Delaware: Rehoboth Beach
Known as one of the top beaches in the country, this shoreline features more than just sun and sand. Along the boardwalk, there's bumper boats, a water slide, lazy river and more.
Disney World
Florida: Disney World
Ten bucks says your kids will be more thrilled by the Monorail than the actual rides.
Florida: Captiva Island
You'll love the pristine beaches, but your kids will love the one-of-a-kind beachcombing. (This island off the coast near Fort Myers is ranked one of the best for in the country for finding pretty shells.)
Florida: The Kennedy Space Center
It's the launch center of human spaceflight. And, if you're kids are lucky, they might be able to catch an actual rocket lift off. (There's currently one scheduled for July, FYI.)
Lanier Islands Water Park
Georgia: Lanier Islands Water Park
This Paradise Beach theme park puts water activities at the forefront. But it's not just for the older kids: The Family Fun Zone includes a wave pool with "wiggle waves" and mini water slides.
Georgia: Georgia Sea Turtle Center
Located on Jekyll Island, this education center is focused on the rehabilitation of sea turtles in the wild. Oh, and there are also alligators.
Georgia: The Georgia Aquarium
It's the world's largest aquarium (located in Atlanta) with over ten million gallons of water and one hundred thousand animals on site—whales, jellyfish and puffins galore.
Honolulu Zoo
Hawaii: Honolulu Zoo
This 42-acre zoo features tons of species indigenous to Hawaii, like the short-eared owl and the Hawaiian goose. It also features twilight tours (perfect for older kids).
Hawaii: Dole Pineapple Plantation
Come to this Honolulu homage to the pineapple for the Dole Whip (a part of every tour) but stay to get lost in the botanical pineapple maze. (Seriously, it's huge!)
Hawaii: Lydgate Beach Park
This Kauai-based beach in the city of Kapaa is a local favorite and features two enclosed swimming areas, both protected by boulders, so it's easy for your kids to safely splash about. It's also right across the street from the Kamalani Playground, should they need to blow off a little steam.
Silverwood Theme Park
Idaho: Silverwood Theme Park
This amusement park in Athol is home to the first-ever inverting roller coaster (FYI, kids need to be 48 inches tall to ride), but it's also got a lazy river, carousel and ferris wheel.
Idaho: Bruneau Dunes State Park
As long as the temps aren't too hot, let your kids run—and surf—the sand dunes at this state park and campground, located just 45 minutes outside of Boise.
Idaho: Discovery Center of Idaho
For an afternoon where you need A/C, head to this STEM-focused hands-on science center in Boise, complete with a summer exhibition that's all about H2O. (Kids may or may not leave soaking wet.)
MLB
Illinois: Wrigley Field
It's home to the 2018 World Series-winning Chicago Cubs. What better time than summer to take your kiddos to a game?
Illinois: Super Museum
Fun fact: Superman's hometown is Metropolis, Illinois. That's why your comic book-loving little one will relish a visit to this museum featuring over 20,000 items tied to the Man of Steel's history and fictional life.
Illinois: The Museum of Science and Industry
It's one of the largest science museums in the world. Even though school is out for summer, take your kid to this Chicago institution where they can learn all about Planet Earth, robots and more.
Children's Museum of Indianapolis
Indiana: Children's Museum of Indianapolis
It's the world's largest kids' museum and it also has a pretty cool selection of summer exhibits on display, from the Fireworks of Glass to a look at American Pop.
Indiana: Conner Prairie
This interactive history park in Fishers (about 30 minutes north of Indianapolis) is all about exploring science, history and nature in a hands-on way.
Indiana: The Virginia B. Fairbanks Art and Nature Park
With over 100 acres of outdoor sculptures built around nature, this Indianapolis park features art you can climb on. (How could your kids resist?)
Iowa State Fair/Facebook
Iowa: State Fair
Not only is this one of the world's largest livestock shows and food fairs, there's also a cow sculpted entirely of butter—something your kids will have to see to believe. (FYI, it takes place for 11 days in August in Des Moines.)
Iowa: Blue Bunny Ice Cream Parlor
This throwback parlor is an activity all in itself thanks to the rooms stocked to the brim with memorabilia. Also, your kids haven't lived until they've tried a classic ice cream soda.
Iowa: National Mississippi River Museum and Aquarium
This museum-meets aquarium-meets science center in Dubuque is a place where your kids can learn and touch. There's also a 4D theater with plenty of child-friendly special effects (think: wind, mist and seat movement).
Oz Museum
Kansas: Oz Museum
Introduce your kids to the movie, then plan a day trip to the museum—located about 45 minutes east of Topeka—which features artifacts, history, folk art and collectibles.
Kansas: Deanna Rose Children's Farmstead
Teach your kids where their food comes from with a tour around this farm in Overland Park, complete with lesons in growing veggies, bottle-feeding baby goats and milking cows.
Kansas: Underground Salt Museum
Your kids will love the chance to tunnel 650 feet below the Earth's surface and touch actual remnants of the inland ocean. Then, when they're done, they can ride the Salt Mine Express underground railroad at this Hutchinson spot, just outside of Topeka.
Louisville Slugger Museum and Factory
Kentucky: Louisville Slugger Museum and Factory
The official spot where MLB bats get made, this museum also boasts a 120-foot to-scale replica of the actual bat swung by Babe Ruth. Oh, and there's a tribute to the 25th anniversary of The Sandlot currently on display.
Kentucky: Mammoth Cave National Park
It's the world's longest known cave system with over 400 miles waiting for kids to explore. Beyond touring the complex labyrinths, you can go for a family canoe ride, picnic, horseback ride and more.
Kentucky: The Great American Dollhouse Museum
A fascinating place for kids (and weird grown-ups), this Danville-based museum features over 200 dollhouses, all depicting different parts of American social history. (There's also air conditioning.)
Shreveport-Bossier/Flickr
Louisiana: Gators and Friends Alligator Park and Exotic Zoo
Not only can kids hold and feed gators at this Greenwood zoo, located 20 minutes from Shreveport, they can zip line over many of the residents—camels, kangaroos and miniature horses.
Louisiana: Blain Kern's Mardi Gras World
They may be too young to really laissez les bons temps rouler, but that doesn't mean they can't get in on the action. At this enormous NOLA warehouse, kids can tour the masks, floats and other Mardi Gras ephemera, and even play dress-up in the big costume closet.
Louisiana: Creole Nature Trail
Help your kids tackle some next-level beachcombing as they traverse this trail in Lake Charles, filled with driftwood pieces, moon snails and sea beans, all kosher for bringing home. (It's also adjacent to 26 miles of beach paradise where they can pick up actual shells.)
MILB
Maine: Portland Sea Dogs Game
It's hard to beat a minor league baseball game in the heart of Portland. Take your kids to a double-header (and make sure they get a pic with the mascot Slugger).
Maine: Acadia National Park
Sign your kids up for the summer-only Junior Ranger Program, where they earn a badges for scouting things like seals, porpoises and birds.
Maine: Sugarloaf Mountain
Sure, during winter, this place is ski central, but during summer your kids can participate in guided moose tours, go mountain biking, zip lining and more.
Chesapeake Pirates/Instagram
Maryland: Pirate Adventure on the Chesapeake
Ahoy! On this Annapolis-based ship, aspiring mateys paint their faces, don their pirate garb and set sail for a 75 minute treasure-finding adventure. (Hint: they always find the treasure.)
Maryland: Larriland Farm
One of the best spots in the state (it's located in Woodbine) to pick your own cherries or blueberries—an easy summertime kid activity, plus a built-in snack.
Maryland: Billy Goat Trail
Perfect for littles that like the outdoors, this rocky hike goes along the cliffs of the Potomac Gorge. (Just be sure your kids are old enough to have their footing.)
MLB
Massachusetts: Fenway Park
It's not summer in New England without taking in a Red Sox game. Plan ahead and schedule a 50-minute tour of the ballpark—a historic landmark—before the first pitch is thrown.
Massachusetts: Edgartown
This sandy Martha's Vineyard destination is accessible by ferry and makes for a great family beach day thanks to the variety of shorelines to choose from, the lack of crowds and the proximity to restrooms—a must for kids. (Plus, fun fact: It's also the main shooting location for Jaws.)
Massachusetts: The Frog Pond
In the winter, it's an ice rink, but come summer, this man-made "pond" in the middle of Boston Common becomes a popular wading pool for tots looking to cool off.
Henry Ford Museum/Facebook
Michigan: The Henry Ford Museum
It's been over 100 years since the Ford Motor Company introduced the Model T. Take your kids to the Dearborn museum where they can learn all about the innovation and spirit of it's creator, Henry Ford—oh, and actually ride in a restored car.
Michigan: Air Zoo
Experience the science of flight at this aviation museum in Portage (near Kalamazoo) that combines rare aircraft with flight simulators and bi-planes (what the Wright Brothers flew) which your kids can actually steer.
Michigan: National Cherry Festival
It takes place every July in Traverse City. Sign your kids up for the cherry pie eating contest, then stay for the evening fireworks display.
National Eagle Center
Minnesota: National Eagle Center
Give your kids the chance to catch a rare sighting of an American Bald Eagle up close, but also in the wild at this nonprofit located in Wabasha.
Minnesota: Boundary Waters Canoe Area Wilderness
Canoe between the cliffs, crags and canyons of this epic route, located in the northern third of the Superior National Forest.
Minnesota: Mall of America
Forget about shopping — this indoor amusement park at America's largest mall (in Bloomington) features games, water rides, an aquarium, and an adventure course.
Tupelo Automobile Museum/Facebook
Mississippi: Tupelo Automobile Museum
Enough with Lightening McQueen. Take your little guy to see over 100 antique automobiles, all displayed and laid out to illustrate the history of car design and engineering.
Mississippi: The Institute for Marine Mammal Studies
Dolphin encounters abound at this research institution in Gulfport near Mississippi City, the perfect spot for your kids to learn about the humane animal treatment and conservation efforts of this aquatic creature.
Mississippi: Infinity Science Center
Your kids will relish the chance to see first-hand what an international space station set-up looks like at this Pearlington-based site. The motion and cockpit simulators are another crowd pleaser. And for older ones, so is the bus tour of a NASA rocket-testing facility.
Legoland Discovery Center North America/Instagram
Missouri: Legoland Discovery Center
The Lego-lover in your household will go nuts at this Lego "experience" in Kansas City, complete with a Lego master builder academy and Lego ideas studio.
Missouri: Big Surf Waterpark
This water park in Linn Creek is the place to cool off come summer with food, rides and slides—not to mention a lazy river for younger kids who just want to float and chill.
Missouri: Johnson Shut-Ins State Park
Pitch a tent or rent a cabin at this park in Middle Brook (90 minutes south of St. Louis), which is filled with natural swimming areas, hiking trails and spots to roast s'mores, away from it all.
Visit Montana
Montana: Flathead Lake
It's the largest natural freshwater lake in the U.S. (with an entry point in Lakeside), which means there's plenty of room for tubing, canoeing and swimming.
Montana: Big Dipper
Prepare your kids ahead of time: There will almost definitely be a line wrapping around the block just to get a scoop (or two) of ice cream at this Missoula spot, famous for their homemade flavors like cardamom and huckleberry.
Montana: Museum of the Rockies
Home to the largest collection of dinosaur fossils, this museum in Bozeman will pique your kid's curiosity in the prehistoric creatures and give them a chance to play paleontologist for the day.
Mark Reinstein/Getty Images
Nebraska: Hutchinson Buffalo Ranch
Make your kids turn off their tech and travel back in time at this ranch just a few hours west of Omaha in Rose—a "last frontier" of sorts where you can see actual bison as you tour the area on conestoga wagons. (Canoeing, tubing, sailing and paddleboats are also available to guests who stay on site.)
Nebraska: Fossil Freeway
Over 30 million years ago, a river actually flowed through this area in the Panhandle now filled with remnants in the form of bulky sandstone blocks. Send your kids on a scavenger hunt for imprints left behind by now-extinct animals including saber-toothed cats and rhinos.
Nebraska: Get Tanked Tubing
Pack lunch for the family and float down the scenic Cedar River in an apparatus designed for water-lovers: An eight-foot plastic stock tank with a picnic table built in.
Valley of Fire/Facebook
Nevada: Valley of Fire
Quite seriously, this state park in Overton might be one of the coolest campgrounds your kids have ever seen. It features over 40,000 acres of bright red Aztec Sandstone, perfect for daytime hikes.
Nevada: Children's Museum of Northern Nevada
There's a rotating climbing wall, train simulation and airplane teeter totter, all at this popular museum in Carson City.
Nevada: Secret Garden and Dolphin Habitat
You don't have to stay at the Mirage hotel to book tickets to this unique Vegas experience: A chance for kids to come face-to-face with dolphins, white tigers, white lions and leopards.
Wildcat Mountain
New Hampshire: Wildcat Mountain
As long as your little ones don't mind heights, take them on a scenic gondola ride where they can check out sweeping views—or simply plan a nature hike instead. (Thompson Falls is just a 45-minute climb.)
New Hampshire: Clark's Trading Post
Come summer, this Lincoln theme park's main focus is family fun—take your kids to the black bear show (with actual bears), ride a steam train or cool off on the water blaster boats.
New Hampshire: Hampton Beach
Even if all you do is grab an ice cream cone at Stillwell's Surfside Scoop and walk the boardwalk, your kids will be happily entertained.
Jersey Shore Pirates
New Jersey: Jersey Shore Pirates
Get this: At this North Jersey spot, Your kids get to dress up as pirates and learn pirate lingo before setting sail on an action-packed, hour and 15-minute adventure that has them following a treasure map to their booty.
New Jersey: Cape May Point Historic Park
Go for the beachcombing, stay for the mini golf. Located on the southern tip of New Jersey, it's a go-to spot for families looking to escape the heat without the Jersey shore riff-raff.
New Jersey: Fosterfields Living Historical Farm
Expose your kids to farming as it was done 100 years ago and enlist them to help with daily tasks like collecting eggs, grinding corn, feeding chickens and cleaning a horse's harness at this working farm in Morristown.
Carlsbad Caverns National Park
New Mexico: Carlsbad Caverns National Park
Sign up for a slew of activities including ranger-guided stargazing and a bat flight program. (Basically, a guided narration of bats' nocturnal activities.)
New Mexico: Four Corners Monument
A chance for your kids to stand in four states (Arizona, New Mexico, Utah and Colorado) all at once. (They'll think it's the coolest…or the lamest, but who cares as long as you have a photo.)
New Mexico: Roswell UFO Festival
Every July, this festival draws kids and adults from all over the country for live entertainment, a costume contest, parade—and *fingers crossed* an alien sighting.
American Museum of Natural History
New York: American Museum of Natural History
Get ready for a massive collection of dinosaur fossils, to-scale whales and a hall of American mammals (all stuffed) at this famed Manhattan museum. Just don't forget a stop at the planetarium before you depart.
New York: Fire Island National Seashore
The fact that no cars are allowed on this island makes it an incredibly kid-friendly place where you can bike to the beach, dinner or for a post-dinner ice cream cone. (Just take a ferry to get there.)
New York: State Fair
This 13-day showcase—featuring food, music, carnival rides and oh-so-many butter sculptures—takes place in Syracuse between August 22 and September 3. Hello, summer send-off.
The Morehead Planetarium and Science Center
North Carolina: The Morehead Planetarium and Science Center
The planetarium here in Chapel Hill was once used to train real live NASA astronauts, a fact worth dropping on your kids right as a show like the Solar System Odyssey (a crowd favorite) is about to begin.
North Carolina: Lazy Five Ranch
Home to over 750 animals from six different continents, this "farm" in Mooresville showcases everything from wild mustangs to antelope.
North Carolina: Pirate Invasion
Save the date for this annual Beaufort event—held this year on August 10 and 11—where people come from all over to reenact the pirate heritage of the area. Your kids will love the treasure hunting, sword fighting and cannon firing, all a spectacle worth seeing.
Enchanted Highway
North Dakota: Enchanted Highway
Instead of playing the alphabet game, pile the kids into the car and drive this 32-mile stretch of roadway enlisting them to help spot the fancy (and whimsical) metal sculptures dotting the landscape.
North Dakota: Graham's Island State Park
Fishing is a beloved pastime for anyone here. Introduce your kids to it where they're certain to catch something—at Devil's Lake, the largest natural water body in the state.
North Dakota: Pitchfork Steak Fondue
A summertime tradition, this outdoor cowboy cookout combines all the thrills of the wild west. After dinner, stay for the Medora Musical, a western-style variety show set against the backdrop of the Dakota Badlands.
Columbus Zoo
Ohio: Columbus Zoo
In addition to the usual suspects—lions, tigers and bears—your kids will get to see the likes of the American bison and African Gray parrot while on a Congo expedition (aka a super-cool guided tour).
Ohio: Mid Ohio Sports Car Course
The ideal spot to take the car-lover in your fam, this race track offers plenty of spectator experiences (in addition to actual races) featuring vintage automobiles, rugged trucks, motorcyles and more.
Ohio: Rock and Roll Hall of Fame
Teens will love combing through this Cleveland museum for relics of a distant past. (You know…one where people played guitars.)
Beavers Bend State Park/Facebook
Oklahoma: Beavers Bend State Park
One of the best places in McCurtain County to hike, bike, swim and fish. (Speaking of which, there are two well-stocked catch and release trout streams, the perfect place for your kids to learn the sport.)
Oklahoma: Orr Family Farm
In addition to riding the vintage carousel and replica transcontinental locomotive, kids can zipline across this farm in Oklahoma City to take in the views from above.
Oklahoma: Tiger Safari
Your kids will never forget the summer they got to hold (and feed) baby tigers at this "zoo" in Tuttle, complete with actual safari tours.
Lincoln City Summer Kite Festival/Facebook
Oregon: Lincoln City Kite Festival
This annual kite festival held every June is not to be missed—but if you pop by the beaches in the area on, say, a random Tuesday, the chances are still good that you'll see plenty of families testing the wind with their own kite, bought at local favorite Catch the Wind Kite Shop.
Oregon: Oregon Zoo
This 64-acre zoo in Portland will entertain your kids all afternoon. Then, if you can swing it, stick around for the evening concert series—a summer-only event.
Oregon: Silver Falls State Park
Depending on how ambitious your family is feeling, there's an eight-mile hike that allows you to see 10 waterfalls in a single day. (There's also a much shorter loop you can take with younger kids.)
Sesame Place
Pennsylvania: Sesame Place
Bring on the Elmo freaks: This theme park an hour outside of Philadelphia includes rides, water attractions and live entertainment and is a great bet for littler guys who might get overwhelmed by bigger amusement parks.
Pennsylvania: Crayola Experience
Kids see first-hand how crayons get made at this Easton warehouse, just an hour and a half north of Philly. Then, when they're done, they can take home a souvenir set named after themselves.
Pennsylvania: Hershey Park
There are 14 roller coasters and a zoo at this epic amusement park that also offers ample opportunities to taste-test chocolate.
Sky Zone
Rhode Island: Sky Zone
Summer is the best time to nab a good deal at this indoor trampoline park located in East Providence.
Rhode Island: Pawtucket Red Socks
Another minor league team worth checking out. Keep in mind, if you go on a Saturday night, there will be be post-game fireworks, win or lose.
Rhode Island: Roger Williams Park Zoo
This time of year, Food Truck Fridays are all the rage at this popular 40-acre zoo in Providence, one of the oldest in the country.
Frankie's Fun Park
South Carolina: Frankie's Fun Park
There are locations all over the state for this amusement park, known for its arcade games, rides and—soon to be your kid's favorite—a go-kart race track.
South Carolina: Alligator Adventure
Located in North Myrtle Beach, it's one of the largest facilities for reptile life in the U.S. After watching a live feeding, your kids can pose alligator-related questions to the staff veterinarian, aptly nicknamed "the croc doc".
South Carolina: Myrtle Beach
Let's just say there are over 50 miniature golf courses to choose from in the area. (And Myrtle Waves Water Park is just a stone's throw from the beach.)
1880 Train
South Dakota: 1880 Train
This working vintage steam train in Hill City will captivate your child—and you—as you take it on a historic route through the state's most famed gold-panning spots.
South Dakota: Custer State Park
Your kids will love keeping their eyes peeled for cool animals—think deer, sheep, elk, even burros—as you take a scenic drive through the park. (Bring a picnic lunch for a pit stop.)
South Dakota: Mammoth Site & Museum
Get this: An actual sink hole in Hot Springs uncovered a treasure trove of fossils—including woolly mammoths—from the ice age. Your kids will go berserk.
Discovery Park of America
Tennessee: Discovery Park of America
Impress your kids with this 50-acre complex in Union City, complete with a 20,000-gallon aquarium, an actual earthquake simulator and train station.
Tennessee: Tennessee Aquarium
There's a shark touch pool at this Chattanooga spot, not to mention three living forests, a 3D IMAX theater and more.
Tennessee: Tennessee Valley Railroad Museum
This "moving" museum in Chattanooga offers experiences (most under an hour in length) that will give your kids the chance to understand railroad travel as it was in the past.
Enchanted Springs Ranch
Texas: Enchanted Springs Ranch
A throwback to the old west, your kids can enjoy horseback rides, eat out of a chuckwagon and learn all about cowboy culture when they visit this theme park in Boerne.
Texas: Dallas World Aquarium
This Dallas-based aquarium has a rainforest vibe, but also plenty of endangered species like Orinoco crocodiles. There's even an underwater tunnel where sharks swim over your head.
Texas: Dinosaur Valley State Park
Arm your kids with the tools they need (binoculars, a magnifying glass, an animal tracking key—all available on site), then embark on a family mission to locate prehistoric dino tracks, at this state park in Glen Rose.
Utah Olympic Park/Facebook
Utah: Olympic Park
The former site of the 2002 Winter Games, this Park City spot has tons of summer-themed activities, like zip lining, extreme tubing and water polo.
Utah: Arches National Park
With over 2,000 natural sandstone arches, this national park located just north of Moab is great for your natural-born climber.
Utah: George S. Eccles Dinosaur Park
There are over 100 life-like dinosaur sculptures at this eight-acre outdoor park in Ogden—go on a scheduled tour or roam free (like the dinos did).
Ben& Jerry's
Vermont: Ben & Jerry's Factory Tour
This Waterbury spot is where the famous pints (Cherry Garcia, anyone?) get made. Take your kids on a 30-minute tour and treat them to a scoop—or two—at the end.
Vermont: Shelburne Farms
The best place to help your kids learn about a more sustainable future, this farm in Shelburne (a suburb of Burlington) offers hands-on educational experiences like brushing sheep and milking goats.
Vermont: Smuggler's Notch
Plan ahead for lunch at Smugglers' Notch Picnic Area (located in a narrow pass through the Green Mountains) then stroll along the wetlands boardwalk all afternoon.
Natural Bridge Caverns
Virginia: Natural Bridge Caverns
A tour at these caverns, located west of Richmond, takes just 45 minutes, but on it, you and your family can descend more than 34 stories deep within the earth.
Virginia: Go Ape Freedom Park
Kids have to be 10 or older, but once they are, they'll absolutely love traversing this treetop obstacle course in Williamsburg that offers Tarzan swings and a ropes course.
Virginia: TwinCreeks Llamas
Hiking is cool and all, but what if you could bring a llama along for company and to carry your gear? Your kids will get a kick out of spending a day with the creature, domesticated 6,000 years ago at this animal reserve outside of Washington D.C. in Bentonville. (Reservations required.)
Washington: Bryant Blueberries
It's pick your own blueberries at this well-known farm in New Salisbury, which also has a petting zoo and playground.
Wolf Haven International
Washington: Wolf Haven International
Home to about 250 displaced wolves, this spot in Tenino, just south of Olympia, is designed with kids in mind: There's a 50-minute tour designed to remove the storybook stigma and a chance to glimpse these beautiful creatures up close.
Washington: Museum of Flight
It's the largest air and space museum in the world (located in Seattle)—and also your kid's chance to hop in a flight simulator and play pilot for the day.
MILB
West Virginia: West Virginia Black Bears
It's not summer without a trip to the ballpark—this minor league team (which plays its games in Granville) is all kinds of nostalgic.
West Virginia: Mystery Hole
Give your kids the chance to question the laws of gravity with a visit to this roadside attraction (it's found in Ansted, which is 15 minutes north of Fayetteville) where the gravitational pull seems to be a bit off. (No one can explain it!)
West Virginia: River Riders
The ultimate way to cool off in the summer is a guided (and family-friendly) white water rafting tour, which takes off from Harper's Ferry.
Bookworm Gardens
Wisconsin: Bookworm Gardens
This Sheboygan botanic garden (located midway between Milwaukee and Green Bay) is inspired by your kid's favorite children's books and uses imaginative landscaping skills to bring classics like Harold and the Purple Crayon and Goldilocks and the Three Bears to life.
Wisconsin: Cranberry Discovery Center
Total day trip material, this experiential center in Warrens (outside of Madison) will teach your kids everything they need to know about the cranberry industry…and the history of the state fruit.
Wisconsin: Madison Children's Museum
While there's no limit to the range of activities your kids can enjoy at this museum, we're partial to the inventive city of Possible-opolis which is filled with interactive puzzles, games and a giant gerbil wheel.
7D Ranch
Wyoming: 7D Ranch
This Cody-based ranch is the perfect place for your kids to experience cowboy life and learn all about the Yellowstone ecosystem. The kids program (aimed at children six and older) even offers the chance to saddle up.
Wyoming: Continental Divide Dogsled Adventures
It's one of the largest dog sled kennels in North America (and located in Dubois). Sign up the family for a one hour tour.
Wyoming: Hot Springs State Park
Plan to BYO lunch and picnic by the all-natural mineral hot springs while actual bison roam nearby. There's even a free bath house if your kids want to dip their toe in the water.
International Spy Museum
Washington, D.C.: International Spy Museum
As soon as you enter, each family member will be given a secret identity and your kids will have to work hard to assume their undercover persona. (Not kidding, there's a test at the end.)
Washington, D.C.: Bureau of Engraving and Printing
Your kids will flip walking around this working facility on the National Mall where actual U.S. dollars get printed. There's a film and gallery tour, but you can also head straight to the production floor for a clear view of all the cash.
Washington, D.C.: Smithsonian National Zoo
There are more than 2,000 animals to spot at this free zoo, but after your little ones are done keeping a distance from the gorillas and lions and bears, they'll love visiting the kid's farm for a chance to meet and greet cows, alpacas and donkeys.
This article was from PureWow and was legally licensed through the NewsCred publisher network. Please direct all licensing questions to legal@newscred.com.