9 Real Working Moms Reveal How They Got Their Back-to-School Routine Down Pat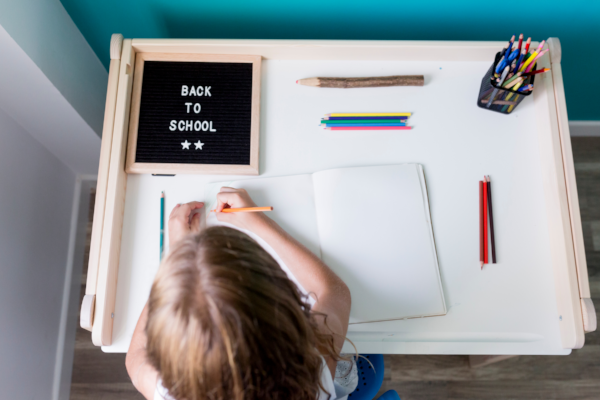 Even though this article was originally written with working mothers in mind, this is great information for all parents!
Read and learn from these seasoned pros.
As summer winds down, many working moms are thinking (fantasizing?) about school starting in just a few weeks (or today, if you live in some parts of the country).
As exciting as a new school year can be, the change in routine from lazy summer days to tightly-packed schedules can lead to more than a few tears—and I'm not even talking about the kids.
We asked real working moms to share their ingenious tips for making the transition back to school as smooth as possible. Here's what they suggest:
Keep the same routine, no matter the season.
Some parents relax the rules in the summer. Not Ann Holman, who is in the Navy and lives in Jacksonville, FL. "I keep the same bedtime every day (even weekends), the same Internet/video game rules (only on the weekend), and the same diet (we don't do random snacks at home)," she says. Consistency makes for an easier back-to-school adjustment, she says.
Streamline school-supply shopping.
Buying in bulk is your friend.
iStock
When it comes to back-to-school, some things are worth paying a little extra for. "If your school has the school supply packs that you can pre-order, it is worth every penny," says Annette Fontaine, an engineer from Austin, TX. Many other moms we surveyed echoed this tip.
Practice your new routine in advance
And head off meltdowns.
iStock
As we all know, young kids can be finicky about their routines—a seemingly minor change can totally throw them off. This is especially true for that most emotionally fraught of rituals: the morning drop-off. Elyssa Morrison, an advertising executive in Hillsborough, NJ, makes things easier for her kids with this trick:
"My husband is a teacher and is always gone before I wake up," she explains. "He helps out a lot when he's home over the summer, but about a week before he goes back, I take it back over. I get myself up, get the kids up, do breakfast, and most importantly, do the daycare drop-offs. I find that this helps my kids get adjusted to Daddy not being there in the morning."
Outsmart the brown bag.
Go for a washable container—with compartments—instead.
iStock
There is perhaps no task working moms dread more than packing school lunches. (Or is it just me?)
Rachel Margolin, who lives in New York City, runs a consulting and publishing business with her husband and co-authored Balancepreneur, a book on work-life balance, says the key to easier lunches is in the container: "I got a set of Tupperware with three sections," she says. "It makes packing a healthy lunch very easy, and there isn't a bunch of Tupperware for your kid to try to keep organized at lunch, or for you to have to wash at the end of the day. And I think kids for some reason are more likely to eat the veggies out of the three-section Tupperware than to open a separate veggie cup." (I plan to test out this theory ASAP.)
Shop early and often.
You never know when you'll catch a good sale.
iStock
When a new school year looms on the horizon, it's not just pencils and notebooks working moms need to shop for. There are tons of other odds and ends to buy, often in different stores. An early start to shopping reduces the risk your child shows up on day one without a much-needed item.
"My daughter starts kindergarten August 1," says Beth Newberry Gurney, a grant project manager from Shelbyville, KY, "so [in July] I ordered a backpack and lunchbox for her from Lands' End and shoes for her from Amazon. I stopped by Staples on my way to work for supplies and put the rest on our Kroger ClickList."
Prep the kids for early wake-ups.
Rise and shine, kiddos.
iStock
If you're not one of those aforementioned parents who keeps summer and school-year routines the same, you may be faced with the daunting task of getting your kids up earlier for school. (I don't have first-hand experience with this yet, but I hear this is a particularly unpleasant chore with teenagers.)
Here's how Grace Barbarino, a teacher from New York City, tackles the problem: "Since I'm a teacher, I go to work two days before my kids start," she says. "They start getting used to the early wake-up times then. I wake them, dress them and get breakfast ready. By the time their first day rolls around, they are better adjusted to the wake-up time."
Get everything on the calendar ASAP.
If it's not on the calendar, it doesn't exist.
iStock
This scenario probably sounds familiar to many working moms: You schedule an important meeting at work, only to realize it conflicts with a "Professional Development Day" (i.e. day off) at your child's school.
Here's how Alison Zvolanek, who works in marketing and lives in Dallas, TX, avoids that headache: "I just went through the district and PTA calendars and added all the important dates to my calendar—meet the teacher, parent night, school holidays, early release days, etc.," she says. (This is going to be the year I actually follow this tip!)
Do everything the night or week before.
Then just grab it and go in the morning.
iStock
Lynn Little, a group home manager from Bristol, CT, is the kind of working mom who leaves nothing to chance.
"Use Sunday to plan for your week," she advises. "Put outfits on hangers separately from the rest of the clothes. Put a bag on the hanger with undies and socks. Pack a week's worth of lunches. Pack separate bags for each night to have all of your stuff for each activity. Put snacks if needed in the bag ahead of time. If you need something from the fridge for an activity put a label on it in the fridge and clip a note to the bag. At night, have the kids pack their school bags and set them up next to the door."
Or … just wing it!
A risky but sometimes necessary strategy.
iStock
Stacey Hawes, a boiler operator from Addison, MI, prefers to embrace the chaos: "I just like to go at it unprepared," she says. "Makes it exciting."
Here's hoping for an exciting—or, for those who prefer, unexciting—Back to School 2018!
This article was written by Jennifer Richler from Working Mother and was legally licensed through the NewsCred publisher network. Please direct all licensing questions to legal@newscred.com.