6 DIY Halloween Kids' Costumes That You Can Make Faster Than Amazon Can Deliver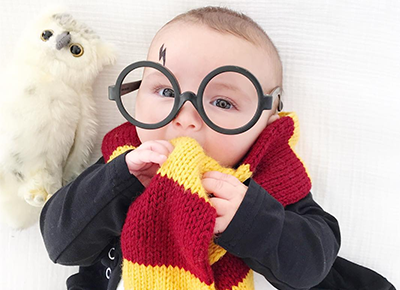 Halloween is fast approaching, and you had so many grand ambitions of making that complicated Where the Wild Things Are costume from scratch. But while you may not be up for a huge project, you can still DIY it. Here, six clever ideas you can throw together practically overnight.
@Primarydotcom/Instagram
An Aerobics Instructor
It's as simple as putting the pants under the pastel-colored onesie you already own. And you can make the leg warmers by cutting off the feet on a pair of kid-sized socks. 80s genius.
Get the look: Primary babysuit ($8); Primary baby legging ($12); Gymboree socks ($7); Suddora headband ($3)
@LoveandLion/Instagram
Harry Potter
The scarf is the key item in this magic (vs. muggle) inspired look, dreamed up by Leah and Jenni over at Love & Lion. Peep your local Good Will store or comb through your closet to find one—anything in a burgundy(ish) hue will do—then throw on a white tee, casual black hoodie and oversized glasses. The true marker of Harry Potter is that penciled on forehead lightning bolt, after all.
Get the look: Cat & Black hoodie ($8); Fruit of the Loom t-shirt ($8 for 5); GrinderPUNCH Kids wizard glasses ($9); Elope scarf ($25)
@Primarydotcom/Instagram
Eleven
Yep, the Stranger Things character is still totally on trend. All you really need is a pink dress, blue cardi and knee socks. Oh, and a box of Eggo Waffles.
Get the look: Primary dress ($20); Primary cardigan($16); Rocky tube socks ($16)
@cheerfulandco/Instagram
Bubble Bath
Dress your kid all in white and affix white (or transparent) balloons to his clothes. Done and done.
Get the look: Primary legging ($14); H&M t-shirt ($5); mikimini showercap ($10)
@ArinSolange/Instagram
Arthur
Yep, the aardvark—and star—of the PBS Kids TV show is also one of the easier Halloween costumes to pull off. All you need is a denim bottom, mustard-colored top, oversized glasses and paper ears, according to blogger Arin Solange.
Get the look: Old Navy shirt ($10); The Children's Place skirt ($13); FancyG glasses ($2)
@primarydotcom/Instagram
Belle
To pull off this Beauty and the Beast ensemble, just pair a sleeveless yellow dress with white above-the-elbow gloves. Oh, and the ultimate prop to finish the look: a rose.
Get the look: Primary dress ($15); Party City gloves ($9)
This article was from PureWow and was legally licensed through the NewsCred publisher network. Please direct all licensing questions to legal@newscred.com.