10 Best Children's Books That Make Great Gifts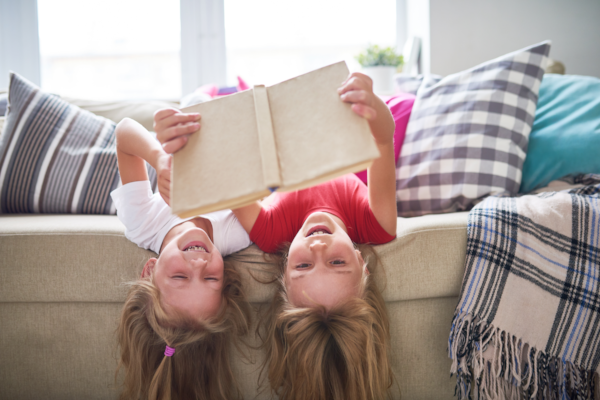 Excellent stories ideal for reading together.
Still looking for a present for your little one? We've rounded up some of the best children's books of 2018 that'll get them excited for story time and make amazing gifts. From new tales about mermaids and dinosaurs to library staples like Harry Potter and Mary Poppins, there's something for every type of reader on this list.
Baby Loves Science Board Box Set by Ruth Spiro and Irene Chan
Four books from the popular Baby Loves Science series are now available in an adorable boxed set. Aerospace engineering, coding, gravity and thermodynamics are all presented in a baby's-world context with bright illustrations. Ages Baby on up ($22, amazon.com).
Pearl by Molly Idle
A lovely tale about the importance of patience and determination.
Courtesy of Amazon
Mermaids are growing in popularity again, and Pearl, a gorgeous picture book about a little mermaid, is a delight for little ones. Radiant, expressive illustrations help tell a story of persistence, and the impact of even small actions, that will resonate with children. Ages 3-6 ($13, amazon.com).
Mary Poppins (Illustrated Gift Edition) by P.L. Travers and Júlia Sardà
Relive this timeless classic complete with illustrations.
Courtesy of Amazon
With a new blockbuster movie coming to the big screen, it's the perfect year to give the gift of Mary Poppins. This edition is beautifully illustrated in full color and the story can be enjoyed by multiple children or as a family read. Ages 10-12 ($19, amazon.com).
The Bad Guys Box Set: Books 1-5 by Aaron Blabey
Read about The Bad Guys trying to be heroes in this hilarious collection.
Courtesy of Amazon
A chapter book series that turns traditional villainy on its head, The Bad Guys' new box set will keep eager readers—and reluctant ones too—burning through the pages. Ages 7-10 ($20, amazon.com).
Made for Me by Zach Bush and Gregorio De Lauretis
A tender story about the joy of fatherhood.
Courtesy of Amazon
The perfect gift for a baby's first holiday, this remarkably sweet and reassuring picture book about a child and their dad, the unconditional love of parent for child, and all the milestones ahead, is a gift parents will adore sharing with their little one. Ages 1-3 ($13, amazon.com).
Harry Potter: The Illustrated Collection (Books 1-3 Boxed Set) by J. K. Rowling and Jim Kay
Relive the magic of Hogwarts with these beautifully illustrated editions of the first three books.
Courtesy of Amazon
It's a beautiful gift for kids clamoring to read Harry Potter. These fully illustrated editions are sure to live on a child's bookshelf for years to come, and they work well for children who want to start Rowling's books but might benefit from the addition of illustrations and larger format. Ages 8 and up ($72, amazon.com).
The Complete Cookbook for Young Chefs by America's Test Kitchen Kids
Have a budding cook in your home? Encourage their passion with this cookbook.
Courtesy of Amazon
One of the most trusted culinary resources, America's Test Kitchen, created their first cookbook for kids and it's a winner. The 100+ recipes are a good mix of difficulty levels, and the text doesn't talk down to the audience. Ages 8-12 ($13, amazon.com).
We Don't Eat Our Classmates by Ryan T. Higgins
Prepare for a lot of laughs with the latest picture book by Ryan T. Higgins.
Courtesy of Amazon
A picture book that works on multiple levels, the story of a little dinosaur who keeps eating her classmates is a book that will have kids laughing out loud and asking to read it again. Ages 5-6 ($15, amazon.com).
Strong Girls Gift Set (Ordinary People Change the World) by Brad Meltzer and Christopher Eliopoulos
It's never too early to teach your kids about these amazing women.
Courtesy of Amazon
Inspire young women this holiday season with the true stories of four female pioneers: Jane Goodall, Harriet Tubman, Sacagawea and Amelia Earhart. Ages 5-8 ($22, amazon.com).
Hello Hello by Brendan Wetzel
Read about connections in nature—some expected, some not—in this story about diversity.
Courtesy of Amazon
This stunning picture book introduces little ones to a great variety of the world's creatures while showing the connection between them, and the diversity of our world. The illustrations are bright and rich with detail, perfect for repeated viewing. Ages 3-6 ($11, amazon.com).
This article was written by Seira Wilson of Amazon.com from Working Mother and was legally licensed through the NewsCred publisher network. Please direct all licensing questions to legal@newscred.com.