Don't Have Time to Exercise? Do it With Your Kids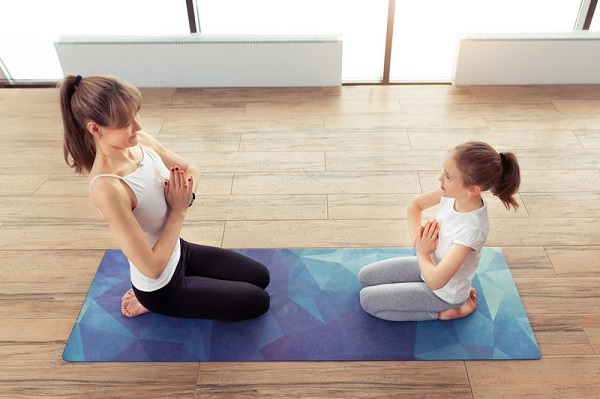 As a working mom with a to-do list longer than the refrigerator, trying to find time to workout and raise happy, healthy children is nearly impossible. But who says you have to compartmentalize exercising and parenting? By exercising as a family, you can enjoy the best of both worlds.
Staying Fit as a Family
Unless you're a professional athlete or trainer who works out for a living, exercise shouldn't be something you separate from the rest of your life. Between work and other responsibilities, you're already away from your children enough. By bringing them into your workout routine, you can spend quality time with them and stay fit.
There are numerous advantages associated with working out with kids. One of the biggest benefits is that it helps your kids see exercise as normal and healthy, as opposed to something that's strange and unsatisfactory.
"Not only is including your kid in your workouts an effective way for him or her to have positive associations with exercise, it's a great way for you to remember that working out shouldn't always be a chore. So many adults are focused on sets and reps, when they could really benefit from playing," trainer Naomi Nazario writes in Men's Health..
The question is, how do you exercise with your kids in a manner that's safe, effective, and challenging for all ages? The following suggestions may help:
Go For Walks Before or After Dinner
One of the easiest ways to get exercise is to take a nightly walk, either before or after dinner. While this isn't rigorous exercise, it's enough to get your blood flowing. Even more importantly, it provides an outlet for having conversations and seeing how your kids are doing on a heart level.
Play Games on the Trampoline
Older kids may enjoy neighborhood walks, but younger kids will get bored pretty quickly. Switch things up to keep each of your children fully engaged.
One idea is to play around on the trampoline – which is an extremely good platform for exercise. It engages your muscles and builds core strength. If you have a trampoline in your backyard, jump together. Don't have a trampoline? Visit a local trampoline park and play games like H-O-R-S-E or dodgeball. This probably isn't something you'll do every day, but it's a good weekly activity to mix things up.
Play Sports in the Backyard
If you have athletic kids who play sports – or even kids who like the idea of sports – you can get some really good exercise in by playing various games in the backyard or driveway.
For example, you and your kids can have a lot of fun playing basketball, kickball, or even four square. Over time, these may even become family traditions.
Create Fitness Competitions
Kids love competition. If you're able to make fitness into a game, you're much more likely to get your children involved on a regular basis. One idea is to have a weekly competition. Something as simple as the loser of a round of a game having to do certain exercises can result in a great workout.
Watch YouTube Workout Videos
As your kids get older and become more interested in organized workout routines, you may think about doing YouTube workout videos together. YouTube has a huge collection of workout videos from both amateurs and professional trainers. They're free and can be accessed on demand in your own living room.
Finding Balance in Your Life
If you spend too much time working out on your own, you won't have much of a relationship with your children. If you don't workout enough, you'll be unhealthy. Life is all about balance, and you need to look for ways to balance parenting and fitness. As this article shows, a little tweaking makes it possible to do both.
This article was written by Emily Green from Working Mother and was legally licensed through the NewsCred publisher network. Please direct all licensing questions to legal@newscred.com.