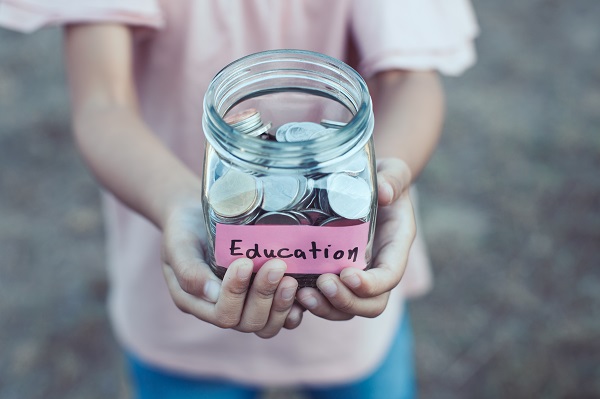 It's never too early to learn about financial responsibility.
Working moms already do a great job in leading by example and teaching their kids about the value of hard work, but one mom took things a bit further by actually giving her daughter imaginary bills and checks to teach her some key financial lessons.
Lynn Brooks, a working mom of two from Birmingham, AL, posted her parenting hack on Facebook where it has since been shared more than 150,000 times. In the post, she says wanted to teach her child important life skills. "Not only is my daughter learning responsibilities, she's also learning her math in the process," she wrote.
Every week her daughter Londyn is given a paycheck for all of her "work," such as going to school, and even gets a bonus for good grades. The official paycheck is of course signed off by Mom.
However, Londyn also has some "bills" she is responsible for paying. She is billed every week for using water, power and Internet. Lynn puts all of the money her daughter pays into a savings account for her.
Londyn's mom even creates a work and payment schedule every week to help her keep track of everything.
The money that Londyn earns is kept at the "bank" for safekeeping. Londyn has to fill out withdrawal and deposit slips, which also double as extra math lessons.
She can even shop at a little store her mom set up, where treats can be purchased using the saved wages.
In her original post, Lynn encourages other parents to do something similar with their own kids—especially since they may not be receiving these types of lessons in school. "Schools are not teaching this much-needed aspect of life," she wrote. "[There are] so many kids—even young adults and teens—that only know how to use a debit card. So parents, guardians, friends and family, by all means find your structure and create saving magic."
Lynn also added that her daughter is definitely learning some serious financial responsibility because of it. "My daughter is confident, learning and is improving," Lynn wrote. "It's borderline bribery, however, we ALL feel great when we get rewarded and being acknowledged for doing a great job. Make this project your own. It's fun."
This article was written by Joseph Barberio from Working Mother and was legally licensed through the NewsCred publisher network. Please direct all licensing questions to legal@newscred.com.