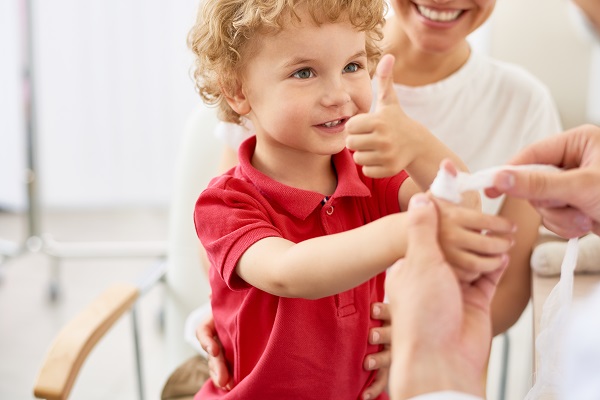 Whether you're a first time mom or recently relocated for work, choosing a pediatrician is one of the most important decisions you'll make during your child's early life. They'll help guide you through those worrisome early days when it feels like you're doing everything wrong, reassure you, and patch your child up when things get a little bumpy.
But how do you choose a pediatrician if you don't have a team of fellow moms to help you out? These 4 simple guidelines can help you determine if you've found the right fit.
Observe The Office
As with most places, you can tell a lot about a doctor by looking at their office. That means if you walk into a practice and things are dirty or look old, that's an immediate warning sign. Similarly, you should avoid offices that are still clinging to paper records rather than transitioning to electronic medical records.
Offices that use electronic records make fewer mistakes because doctors don't have to interpret illegible handwriting and all records are immediately on-hand and searchable. It also makes it easier for your pediatrician to collaborate with other specialists.
Of course, it's not just the technology you should be evaluating; décor matters too. Beware of waiting room couches and other hard to clean furniture. Out of date, repeatedly photocopied paperwork is also a warning sign, as are old toys and poor office signage. If you can't find the practice because it lacks a legible sign, has signage featuring former doctors' names, or has a sign that's old and peeling, keep moving. Doctors who are invested in their practice care about little details like having quality signage and a clean, welcoming office space. Simply put, a great pediatrician can see the big picture.
Talk Philosophy
First time parents often think pediatricians are primarily there to offer medical advice, but their role is greater than that. That's why it's important to talk about parenting philosophy with potential pediatricians before settling on one. For example, some pediatricians feel very strongly about working mothers, while others are very encouraging and know a lot about local childcare programs. Similarly, some are emphatically pro-breast feeding and will put a lot of pressure on mothers to breastfeed, while others are more nutrition-focused.
If specific issues like returning to work or nursing are concerns for you, raise them with potential pediatricians from the start. A great pediatrician will support your choices while emphasizing safety and healthy child development. Leaving your kids with their grandparents while you work? Many pediatricians support family-based care, but know that older relatives might be out of the loop on proper childcare practices. The right physician will help you address these concerns productively and even offer to meet with grandparents, while one whose values don't match yours may warn you away from your choice without discussing it.
Support From Specialists
While most children will thrive regardless of their pediatrician, children with specialized health needs may need equally special support. Finding a pediatrician in your area who has the appropriate training, then, is absolutely vital. In fact, it could become a lifelong relationship, as has been Jeff Vetor's experience.
Vetor has a condition known as pulmonary stenosis, but like many people with childhood diseases, as well as those with developmental and intellectual disabilities, he continues to see his pediatrician, as few doctors are trained to handle what was formerly a life-limiting condition. As more people survive these conditions into later adulthood, though, we may see a greater capacity among general practitioners to handle congenital health issues previously restricted to specialized pediatricians.
Rejection Criteria
Finally, but importantly, you'll want to discuss patient rejection criteria with any potential pediatrician. Some pediatricians have a few basic rules, such as not seeing unvaccinated patients, while others have less structured rules like rejecting patients whose parents are especially difficult. Just remember that when you're interviewing pediatricians, they're also interviewing you.
You may not have a mommy network to guide you through the pediatrician selection process, but that doesn't mean you're totally alone. With the amount of information on the internet today and a few smart questions, you can find the right doctor for your family. But start early – it can take a while to go through the interview process. You're making a big decision.
This article was written by Natalie Bracco from Working Mother and was legally licensed through the NewsCred publisher network. Please direct all licensing questions to legal@newscred.com.