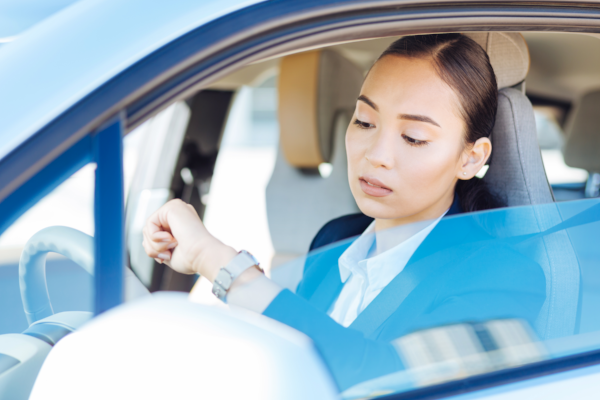 Even though this article was originally written with working mothers in mind, this is great information for all parents!
If you commute to work, you may not realize how much of your time is being eaten up on a daily basis. The average commute in the United States is 25 minutes, which may not seem like much, but factor in the ride home and multiply it by your 5 working days per week—and now you're spending more than 4 hours a week getting nothing done, when you could be spending that time on your career or spending it with your kids.
Fortunately, there are some strategies you can use to maximize the value of this time, helping you achieve your goals as a mother and as a career woman while still getting you to work on time every day.
Making the Most of Your Commute
Upgrade your commute with these important strategies:
Keep your vehicle maintained. If you're going to be driving for several hours a week, you need to maintain a general service schedule for your vehicle. Keeping your car maintained will ensure you maximize your fuel efficiency, get better performance (especially on days with excessive rain, snow, or other hazardous conditions), and minimize the possibility of breaking down, which can ruin your day (if not your week). If you're shuttling your kids to daycare or school on top of your commute, this is even more important.
Listen to podcasts or audiobooks. Driving doesn't have to be a waste of time; you can use this as an opportunity to listen to your favorite parenting podcasts, or listen to an audiobook that can help you in your career. Over the course of a week, you can learn new skills, improve yourself, and be far more entertained by the doldrums of your otherwise boring commute.
Take conference calls (with a hands-free device). If you have a hands-free device, you may be able to take or initiate conference calls. If you have a daily stand-up meeting to keep your coworkers informed and up-to-date, this is the perfect opportunity; you can knock out half an hour of meetings with your half-hour commute, so you can put that half-hour to good use on more productive tasks.
Bike on nice days. As long as the weather is decent, you can bike to work. If you live in a city with bike lanes, you might be able to get to work faster than you could in a car. On top of that, you'll be getting a workout, so you don't have to hit the gym after work, and you'll cut back on greenhouse gas emissions. The only potential problem here is working up a sweat—but if your office has the facilities for it, you can always clean up before the workday.
Consider public transportation. If your city has a functional and accessible public transportation system, consider taking advantage of it. In the long run, it's going to be cheaper than driving a car, though it may take you a little longer to get to work than usual. The advantage here is that you won't have to use your hands or pay strict attention while traveling; instead, you can catch up on emails, read, or do other work while commuting.
Start a carpool. For similar benefits to public transportation, consider starting a carpool with any coworkers who live nearby. If you take turns driving to work, each of you will get regular opportunities to knock out your work while commuting. On top of that, you'll cut back on the wear and tear of your vehicle and reduce your environmental impact.
Eliminating the Commute
Of course, if you wanted a more drastic approach, you could strive to eliminate your commute. If you own your own business, you can try working from home, or setting up a few days of the week as "remote" days. If you work for a company and your role is something that could be managed from home, talk to your supervisors about the productivity and morale benefits of making the position a remote one. Even if you only get one remote day per week, it could free up hours of time over the long run.
This article was written by Natalie Bracco from Working Mother and was legally licensed through the NewsCred publisher network. Please direct all licensing questions to legal@newscred.com.