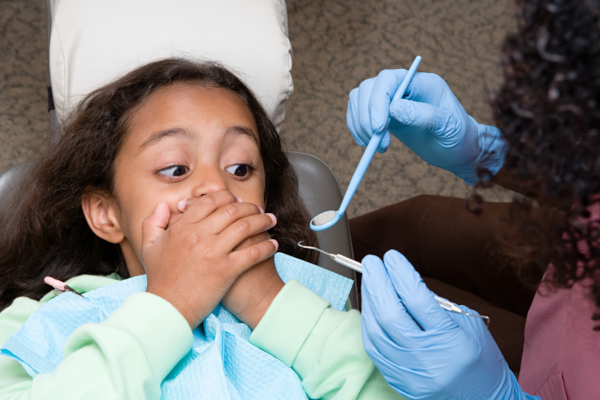 Make your child's next trip to the dentist a fun experience with these insider tips.
Taking a child to the dentist is rarely simple. Dentist anxiety and phobia are problems for about 30 million to 40 million people in the United States, according to Colgate. And in many instances, these challenges prevent people from getting the dental care they need to maintain clean, healthy and beautiful smiles.
If your child is scared of the dentist, it is a good idea to address his or her fear as soon as you can. That way, you can show your son or daughter that the dentist is here to help, not harm. You may even reach a point where your child actually enjoys going to the dentist—really!
Below are five tips to help your child overcome his or her fear of the dentist and put them on track for a lifetime of strong oral health.
1. Arrange a Pre-Appointment Meeting
A quick meet-and-greet with your child's dentist can go a long way toward easing his or her fear or anxiety. This meeting will give your child an opportunity to get acquainted with a dental office and staff. It also gives the dentist a chance to learn about your child, build a rapport with him or her and take the first step toward fostering a long-lasting relationship.
2. Watch Your Language
When you talk about a dental appointment with your son or daughter, try not to use negative words like "hurt," "pain" and "shot." Instead, focus on positive words like "clean" and "healthy." You can also use kid-friendly terms to describe various dental issues, procedures and tools. Rather than say "cavities" or "tooth decay," for example, you may want to use "sugar bugs" to describe these oral health problems. Kid-friendly terms are not intended to fool a child; conversely, they can be used to set the stage for a positive experience during your child's next dental visit.
3. Keep Things Simple
Your child might want to know a lot in the weeks and days leading up to a dental appointment. If you get bombarded with questions, try to keep things as simple as possible. Maintain a positive attitude, but don't tell your child that everything will be fine. If you do and a dentist ultimately discovers that your child is dealing with severe oral health problems, your son or daughter may lose trust in both you and your dentist.
4. Host a Pretend Dental Visit
Practice makes perfect, particularly when it comes to helping your child alleviate his or her fear of the dentist. By hosting your very own practice dental office visit at home, you can help your child prepare for an upcoming dental appointment. During a pretend dental visit, you can count your child's teeth and hold up a mirror to show him or her how a dentist evaluates the teeth. Of course, it is important to avoid simulating drilling sounds or any other dental office noises that might otherwise make your child's fear or anxiety levels rise.
5. Provide Positive Reinforcement
Give your child something to look forward to following a dental appointment—you will be happy you did. For instance, you can reward the little patient for good behavior during a dental appointment by visiting a playground afterward. Remember, if your child feels good following a dental appointment, he or she may be more likely to respond positively to the dentist in the future.
6. Take Your Children to a Specialist in Pediatric Dentistry
Make your child feel at ease by taking them to a pediatric dentist. They're specifically trained to treat children and have a great understanding of child behavior. Their offices are also designed to accommodate small children and make the visits fun.
Lastly, if you want your child to feel comfortable going to the dentist, it typically helps to start dental appointments at a young age. The American Academy of Pediatric Dentistry (AAPD) recommends a child visit the dentist for the first time no later than age 1 or within six months of his or her first tooth erupting. If your child gets accustomed to dental appointments early, he or she can avoid dental fear and anxiety. Encouraging great oral hygiene habits from a young age can also help mitigate any serious future dental issues.
As the top awarded pediatric dentistry, orthodontics, and parent dentistry practice in the greater San Diego area, The Super Dentists are dedicated to providing an exceptional dental experience for both kids and parents. Since 1996, The Super Dentists strive to continue to empower parents with the knowledge they need to make well-informed decisions about their children's dental health.
This article was written by The Super Dentists from Working Mother and was legally licensed through the NewsCred publisher network. Please direct all licensing questions to legal@newscred.com.