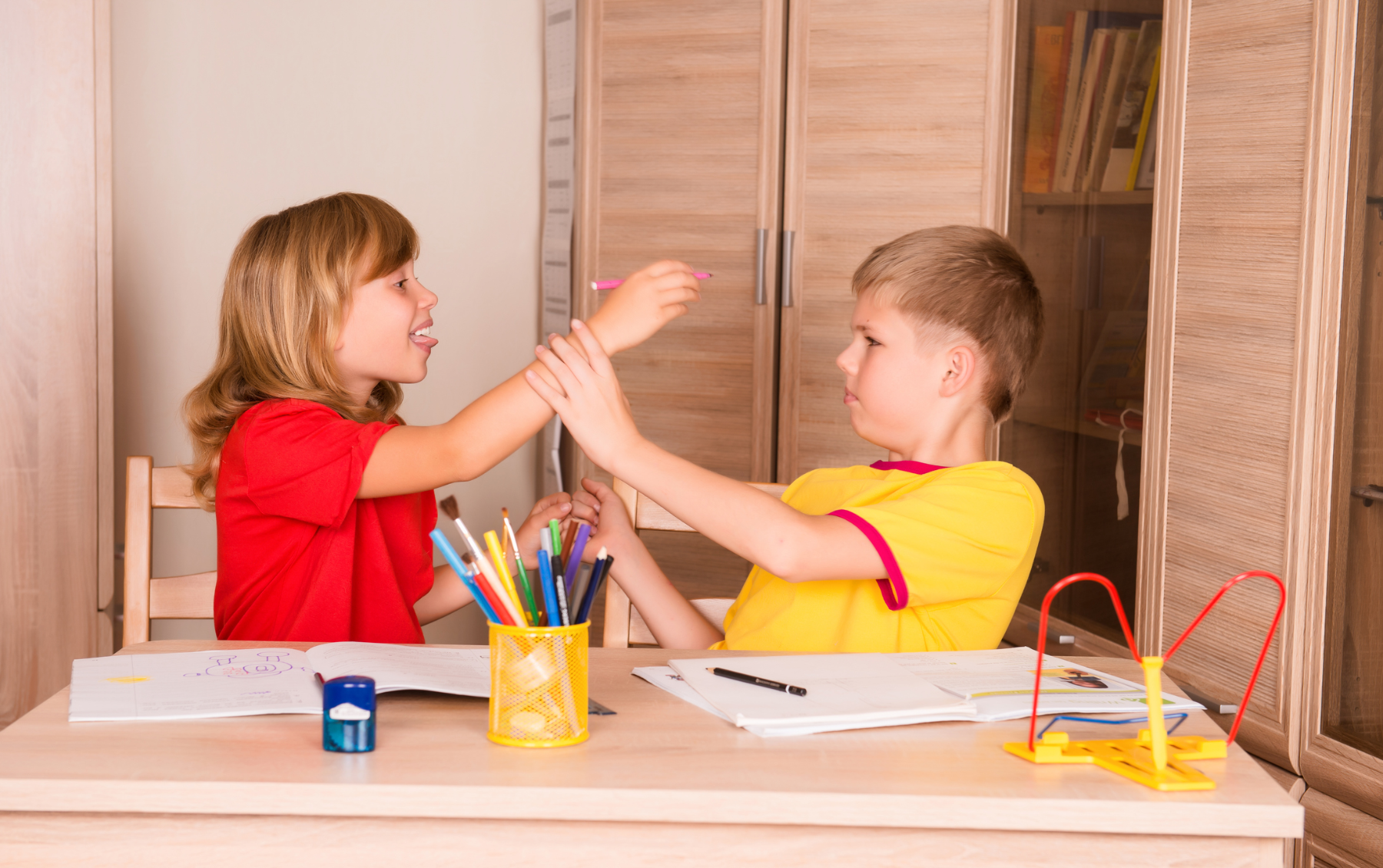 This will put your child on a path to better behavior.
Ben is repeatedly being poked with a pencil by his sister, Cassie, while they're sitting at the kitchen table writing thank-you notes. Despite the message on the refrigerator door that reads, "Make good choices," he's about to hit her back.
Self-control is the ability to stop behavior. It means you won't get in the way of yourself when working towards a goal. Lots of studies have established how important self-control is for life success, but disturbingly, researchers have also shown how our kids' capacity for self-control has diminished over the past few decades.
We can't expect our kids to magically have high levels of self-control without help. Self-control can be thought of like a muscle—exertion in the short-term can leave you feeling depleted and tired. But over time, exercising self-control will bulk it up and strengthen it.
The fact that it can be taught is both a ray of hope for parents and a light at the end of the tunnel for kindergarten teachers everywhere, but it comes with the burden of figuring out how we should be actively teaching and practicing self-control. We get there faster by cultivating the two skills that make self-control efforts more effective: creativity and empathy.
1. Teach Creativity
As a society, we say we value creativity, but we don't teach it and we don't really encourage it. Creativity is very important when generating ideas to solve self-control issues. If a child can imagine the consequences of his behavior, he might come up with a different path to achieve a goal. These both require imagination.
We can teach Ben to think through possible outcomes in his head. If we stop emphasizing what not to do and teach what can be done, Ben has way more options here than just sit or hit. Ben can cry. Ben can tell his sister to stop, he can pretend to be surprised by something he sees out the window, or he can choose to change seats. He can say, "Hey, are you going to do that all evening?" in a low funny voice. Make it Ben's job to come up with creative alternatives to the situation.
Imaginative processes are also powerful tools that can control attention in younger children, and thus boost self-control. Take the incredibly hard task of standing still. This is nearly impossible for kids to do for long periods of time (or for some kids, impossible to do for 10 seconds). But if you ask preschoolers to stand at attention while acting as "lookouts," they can be still for 12 minutes, whereas when simply asked to stand still, they average four still minutes.
Another study found that adding an imaginary friend who watches to see if a child can follow directions boosts the amount of time that she can spend doing a super boring task. (I might enlist this trick to get my kids to unload the dishwasher next week!) Doing things like this with your kids is fun and it will help make self-control a habit.
2. Teach Empathy
Teaching empathy is important for self-control too because there has to be a reason to not act that way. You can either control your behavior to reach your own long-term goals, or you can control it out of consideration for other people's feelings.
A great imagination sets the stage for increased empathy, which helps your child understand how others think or feel and can lead to a self-control boost. Does Ben's sister deserve a good smack back? There's likely a lot more to the story.
Maybe she's simply bored, but maybe she's anxious about her test tomorrow. Maybe she has ADHD. Maybe she thinks Ben stole the bigger lemon bar for dessert. Maybe she has difficulty spelling and her dad clearly pointed this out when she sat down with that pencil and a blank pile of notecards. Ben will understand the situation much better if he can appreciate the wide range of days his sister might have had.
Self-Control Is Not Our End Game
Self-control is a straight "no." That's hard to hear at any age. But if you can see and choose a better way of getting what you want, that becomes self-regulation. Self-regulation says, "You can't do or have what you want in this way, but let's figure out another way to do it or get it." When you color the edges of self-control with creativity and empathy, you see things differently. You become a "yes."
We don't want kids who simply have amazing self-control. We don't want our son to just sit there being poked with a pencil for an entire hour by virtue of his impressive willpower. No, we want our son to be a problem solver instead. We want him to decide to resolve the situation creatively, with respect for all parties involved, even when he has depleted self-control at the end of a long day.
To get there, we just have to practice. There are neuroscience-based ways to teach our kids great self-regulation using a few minutes every day. The goal of practicing is to make a habit of creativity, of empathy, and of self-control so our children eventually do the right thing as effortlessly as possible.
We want our kids to have good behavior spring up from well-oiled brain machinery. This allows these future adults to save their intentional energy for higher-level thinking, for compassion, and for changing the world.
Erin Clabough, Ph.D., is a mother of four who holds a Ph.D. in neuroscience. Her parenting style has been highly influenced by her background in brain development research. She teaches biology and neuroscience at Hampton-Sydney College and conducts research in developmental brain function and other areas. She writes for popular media such as Psychology Today, TODAY Parenting, and other publications. She is the author of Second Nature: How Parents Can Use Neuroscience to Help Kids Develop Empathy, Creativity, and Self-Control (Sounds True, January 8, 2019). Dr. Clabough resides in Charlottesville, VA.
This article was written by Erin Clabough Ph.D. from Working Mother and was legally licensed through the NewsCred publisher network. Please direct all licensing questions to legal@newscred.com.