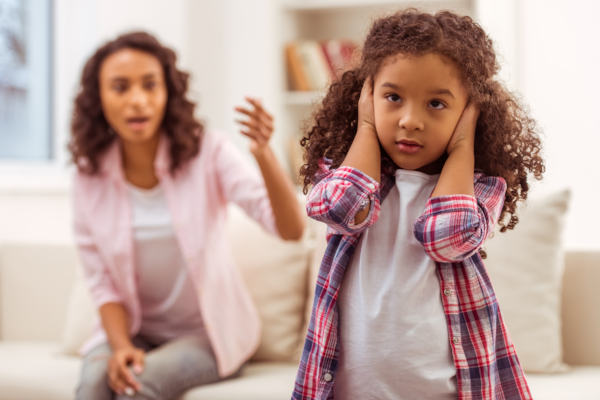 Why making space for kids' feelings can be a game-changer.
It's that familiar scene. Child care pickup. Your child is thrilled to see you and then 20 minutes later, he melts down because you cooked chicken for dinner instead of pasta. As a working mother, tantrums can feel all the more painful because they're ruining those precious few moments you get with your little ones.
It doesn't have to be that way. In the past five years, I discovered dozens of new discipline ideas, while reporting my book The Good News About Bad Behavior: Why Kids Are Less Disciplined Than Ever—And What to Do About It. Here are just a few of the winning strategies I found for stopping a discipline problem in its tracks. The next time you're at a loss, try one of these.
1. Pause
First of all, shed any guilt you may feel about not spending enough time with your kids, as compared to your mother or your mother-in-law. The truth is, modern parents spend more time with kids than at any time since the Bureau of Labor Statistics began keeping time use data. Even as women flooded into the workforce between 1965 and 2015, mothers' time spent caring for children rose from 10 hours to 15 hours a week. Dad's time on child care leaped from 2.5 to 7 hours in that same time period.
Take a breath. Or two. When we pause before responding, we're giving our nervous systems a chance to regulate. Then, we can better access the part of our brains that is creative and solves problems. We can find better strategies than yelling or ordering a time out. We might even lead our children into a more regulated state themselves.
Use that pause to shift your perspective. Yes, the family's priority is getting dinner on the table and moving into the bedtime routine. But your child's interests and preferences also matter. It doesn't cost you that much time to take a minute to empathize and say, "I know, you really love pasta!" before moving smoothly on with your evening. That moment of acknowledgement is more likely to ease your child out of a tantrum than saying, in an annoyed voice, "We had pasta three times this week already!"
2. Deploy Humor
Children are sometimes so … childish! They giggle at farts and still half-believe that possibly, monsters may inhabit the patch of woods down the street. Harness their love of humor! If you tickle their funny bone, you can distract them out of a power struggle before they dig in too deep.
For example, when our children were just learning table manners, my husband Brian made up an alternate family—the Bewis family—that was filled with badly behaved boys. We could invoke the Bewis boys when we saw a child eating with their hands, or leaving the table without picking up a plate. "I hear the Bewis boys never clear their plates," we would say. They'd giggle and retrieve their plates while making up their own stories of terrible goings on in the Bewis household.
You can also use make believe to empathize with a child's impractical yet deeply-held desire, rather than trying to force him or her to comply with yours. For example: "Oh, if I had a magic wand, I would wave it so we all could go to Disneyland tomorrow! That would be so much more fun than school." Being understood defuses your child's growing upset. You don't need to be the one to rain on your child's parade—life will do that soon enough.
3. Give Choices
This is such common parenting advice, it's almost a cliché. Bear with me. Often, when we give a child a choice, we're only offering two things that we want the child to do—neither of which they want. As they grow, they see right through that farce.
Instead, open your mind to what your child wants. Sure, it may be impractical. Consider whether it's truly impossible. Be creative about whether you can accommodate their wishes. If there's no harm done … say yes.
Who cares if they wear the same favorite pants three days in a row, as long as they're not obviously dirty? And if French toast is a healthy meal for breakfast, why not have it occasionally for dinner? Does it really matter whether your child gets dressed before coming down for breakfast? Maybe it's okay for him to pop back upstairs to change out of pajamas—or even sleep in the clean sweats he's going to wear to school. A child who's doing what he wants moves a whole lot faster than one who's being forced by mom.
I'm not talking about becoming a short-order cook or a servant to your child's whims. But as your children get older, they increasingly want to contribute ideas and influence what the family does. If your children always hate what's for dinner, invite them to suggest some meals, or even go shopping with you. Create a rotating schedule of dinners that everyone has agreed to in advance. The more they're involved in the process, the less they'll object. Yes, this takes more time at first, but your hard work will pay off when you have an 11-year old who can plan and cook the family dinner.
Katherine Reynolds Lewis is a Washington, D.C.–area journalist, mother of three and author of The Good News About Bad Behavior: Why Kids Are Less Disciplined Than Ever—And What to Do About It, *available from PublicAffairs, an imprint of Perseus Books, LLC, a subsidiary of Hachette Book Group, Inc.
Courtesy of PublicAffairs
4. Connect
There are so many opportunities to connect with our children. The drive to school or walk to the bus stop. The time after dinner when we're all full and happy. An early morning snuggle before the rest of the family wakes.
But often we fail to take advantage of these fleeting moments. The to-do list or the window to check email seems more pressing. Resist this temptation. Work when you need to work; be with your family when you can. Don't let the two contaminate each other unintentionally.
Every time you focus just on your child—playing Candyland or listening to a long story about a favorite YouTuber—you are depositing into the bank of your relationship. That undistracted time will serve as a reserve for you to draw on the next time there's conflict in your relationship, or a power struggle starts to loom.
It doesn't have to be a half hour or hour of your time. You'll see the pay-off from even five minutes throwing the ball, or a sincere thank you for something they did to help you. Start keeping track of the times when you truly connect with each child, and see if you can boost that number over time—like a plank challenge or other goal you set for yourself.
5. Plan Ahead
Sometimes, all of our best efforts fail. A hungry or tired child simply cannot do what's needed in a situation. Or something unexpected happens and your little one spirals out of control. Maybe everyone screams—or cries. That's not a disaster. It's an opportunity for you to learn.
Take stock of the experience at a later time when everyone is calm. If your kids are old enough, ask them what it was like for them. Brainstorm what might help in the future to prevent such problems. Routines are a huge boon to smooth family life, and keep discipline problems from erupting even before they begin.
An earlier bedtime can help with the morning routine. Reminder signs on the wall can spark a child's memory without Mom nagging about backpack or teeth brushing. Small children can help make signs for the daily routines, either taking photos of each step or crayoning their own interpretation.
Don't worry about having a consequence or a reaction for every instance of childish misbehavior. You can usually count on the same problem cropping up again, by which time you'll be ready with your brainstormed solution.
This article was written by Katherine Reynolds Lewis from Working Mother and was legally licensed through the NewsCred publisher network. Please direct all licensing questions to legal@newscred.com.