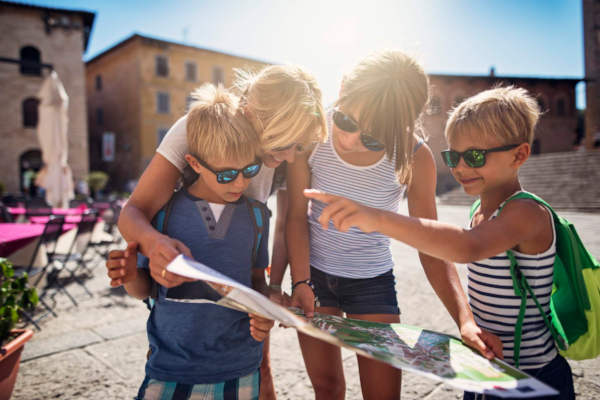 Here's a good reason to book that overseas excursion.
If you're looking for an excuse to book your dream family vacation, here's one you'll love: Kids who travel do better in school, according to a survey of those who know best—teachers.
More than 1,500 teachers were surveyed as part of a poll commissioned by the Student and Youth Travel Association, and more than half (56 percent) said travel has "a very positive impact on students' education and career." And almost three-quarters (74 percent) of educators agreed that travel has "a very positive impact on students' personal development."
The survey specifically took a look at the benefits of student travel—i.e. far-flung field trips. Surprisingly, teachers are a fan, even though the trips take kids away from the classroom.
Students don't usually have time to practice their reading, writing and arithmetic while traveling, so just how does it help them get ahead in school? According to the survey, 53 percent of teachers say the first-hand experience of exploring a new area or culture helps students better understand the curricula, while another 54 percent say it positively impacts their performance at school.
That's because travel often inspires a "transformation"—an increased ambition to know, learn and explore, they report.
It makes sense. Traveling to another state or country is an eye-opening experience. Learning about other regions, cultures, religions and languages help children grasp big-picture concepts like tolerance and curiosity—and those skills can help tremendously in the classroom. Teachers said student travel led to more intellectual curiosity (55 percent), increased tolerance of other cultures and ethnicities (52 percent) and increased tolerance and respect overall (48 percent).
Learning how to navigate a new place also helps build self-reliance. Teachers also reported that student travel led to increased independence, self-esteem and confidence (56 percent) and better adaptability and sensitivity (49 percent).
While the survey mostly focused on student travel, it's easy to imagine the same benefits apply when traveling with family. So don't feel guilty about booking an exotic getaway with your kids. After all, teachers agree: It's educational.
This article was written by Audrey Goodson Kingo from Working Mother and was legally licensed through the NewsCred publisher network. Please direct all licensing questions to legal@newscred.com.