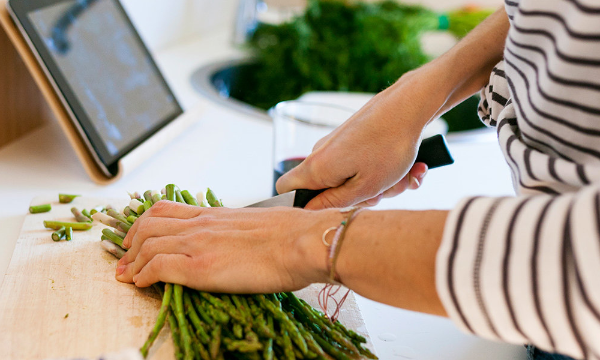 Real Simple readers reveal how they make mealtime less of a chore each day.
I live by the words "It's never too early to start prepping dinner." Whenever I have a few minutes during the day or on the weekend, I do something for dinner ahead of time, whether it's chopping an onion, throwing together a quick salad, or making pasta or quinoa. —Emily Smith, Greenville, South Carolina
I use what I have in the kitchen and create meals that are loosely based on a recipe, or no recipe at all. —?@paulajsheldon
Make sure the tools, pots, and food items you use the most are the most accessible items on every surface and in every cabinet and drawer. While you're at it, put everything you haven't used in a year up high. —?Liora Seltzer, New York City
Keep your staple ingredients on hand at all times. Fresh herbs, good olive oil, lemon, Parmesan, capers—if the pantry is stocked with versatile and quality ingredients, you are guaranteed a good meal every night of the week. —Tig Filson, Cumberland, Maine
While I'm cooking, I keep a "garbage bowl" on the counter (for veggie scraps, wrappers, egg shells, etc.) to cut down on trips to the trash can. I put everything in something that's already dirty, like an empty spinach container or gently used Tupperware, so I'm not adding to the dirty-dish pile. —Ariana Lake, Stephentown, New York
Rotisserie chicken. I take it home and repackage it: It's ready when I need to make quiche, chicken soup, chicken salad, you name it. It saves so much time and is easy and economical! —?Amy Tooley Radachi, Dayton, Ohio
I have my two teenagers each cook one night a week. They have to include a vegetable, and dinner can't be takeout. During the school year, it's typically some variation of pasta or tacos. But it doesn't matter—I get to come home to a fully cooked meal. —Janet Kinard, Atlanta
Meal delivery services. It's the new date night! —Katherine Mooney, Sedona, Arizona
I always fill the sink with hot soapy water for cleaning as I go. I can wash and reuse utensils, and when I'm done, the kitchen doesn't have to be cleaned. —Helen Bouslaugh, Woodland, California
While prepping meals, we chop extra onions, garlic, or tomatoes and store them in small, lidded containers. For the next few days, we can use them for omelets and garnishes without having to prep again. —Tina Hom Chen, Redding, Connecticut
I married a man who loves to cook. —Megan Waite, Fredericksburg, Virginia
I use two Instant Pots: one for the main or meat dish and the other for the side or dessert. They cook quickly, and clean- up is a snap. —Chris Stephens, Luttrell, Tennessee
I've accepted that I'm in a season of life when I need to spend a little bit more money to buy the prechopped produce. My prep work is minimal, and I can spend time with my son and husband instead! —Kristin Jones, Turner, Montana
I've learned to turn leftovers into something completely different. Meatloaf becomes taco meat; chili becomes tamale pie. The trick is to add fresh elements and stay within the same flavor family. —?Mary Pielenz Hampton, Bozeman, Montana
Whoever gets off work first has to cook dinner. The kids clean up afterward. This works well for our family because my husband and I work various shifts throughout the week. —Brandy Biswell, Puyallup, Washington
I do the shopping and the prep, and my spouse executes the meal! —Caitlin Zinsser, Oak Park, Illinois
I order groceries online and pick them up at my local store. —Nancy Harris, Mansfield, Texas
This article was written by Real Simple Staff from Real Simple and was legally licensed through the NewsCred publisher network. Please direct all licensing questions to legal@newscred.com.