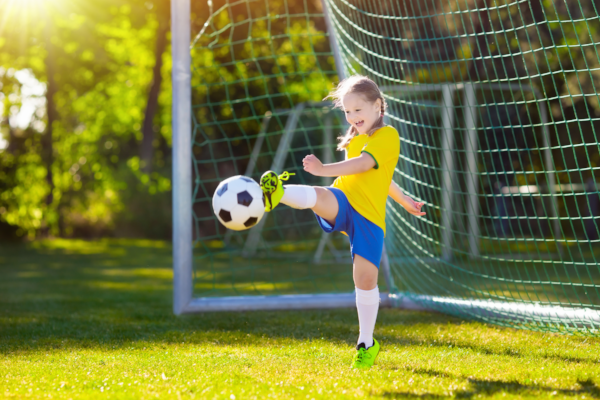 Activity is important for kids of all ages. But when it comes to regular exercise, what's the best way to get them moving?
We all know that kids have energy to spare—the question is, what's the best way for them to burn it? Is it better for kids to join a gym, or play a team sport? While it may seem like the best thing to do is just let them run in circles in the yard like puppies, the fact is, there's a time and a place for different physical activities in a kid's life.
The number one rule when it comes to kids of all ages and exercise: Whatever they do, they should have fun doing it. "We are creatures that are meant to move, and kids should get their physical activity through whatever feels good for them and makes them happy," says Jessica Glazer, a certified personal trainer and former elementary school phys ed and health teacher. "Not all kids like to play organized sports, but those kids may find joy in simply taking their dog for a walk or playing on the trampoline by themselves. That's totally okay!"
While unstructured play is important for children of all ages (yes, you too!), once team sports start around age 4, feel free to get your kid involved. "Young kids will benefit more from organized sports more than working out in a gym," says Frank Rizzo, personal trainer and founder of The Dad Habit. "It's fine for them to join as soon as they're interested and they have the attention span to listen to the coaches. Early on, the focus should be on fun, learning the skills of the sport, and being part of a team."
Team sports, both experts agree, have incredible benefits beyond the physical aspect. "Sports allow children a place to express themselves and find a healthy way to deal with anxiety, stress, and depression," notes Glazer. "Sports also help teach coping skills, healthy competition, sportsmanship, communication, teamwork, goal setting, and long and short term gratification."
These are all important skills to take with them into adulthood, emphasizes Rizzo. "Plus, they're learning how to win with grace and lose with dignity," he says. "They learn that failing is okay, as long you pick yourself up and keep working."
For kids out of elementary school, exercising at a gym (or on gym equipment) can be a supplement to their other activity. "I think at around 12 to 14 years old kids can start seeing real benefit form exercise in a gym," says Rizzo. "Focusing on an exercise program that will help them excel on the field is a great way to get them engaged. But they need to enjoy it, in order to develop a lifelong love of physical activity."
Rizzo's advice for taking your kid to the gym: Keep it simple. "A child doesn't need much equipment," he says. "Focusing on balance, agility, and calisthenics is valuable for kids. This includes exercises such as push-ups, squats, jumping jacks, running, sprints, lateral movements."
Glazer notes that some gyms have their own rules about kids. "I've worked at a variety of gyms, and it's pretty standard that anyone under the age of 18 needs an adults consent," she says. "Many gyms also require an adult or trainer to be with the child during the workout if they're under 14 or 16." It's for good reason, she explains. "Gym equipment can be extremely dangerous if not used properly—plus a lot of the equipment is not made for the dimensions of a child's body. This can alter the range of motion and proper positioning in a dangerous way."
Whether you start your kid on sports early, let him or her find her own way of moving on the playground, or introduce your older kid to the gym, your goal should always be to encourage them to find activity they love, and keep doing it. "Don't overthink it," says Rizzo. "Just keep them active!"
This article was written by Melanie Mannarino from Real Simple and was legally licensed through the NewsCred publisher network. Please direct all licensing questions to legal@newscred.com.