The emotional push-pull between home and the office can be painful. Here's how successful working moms and dads keep life guilt-free.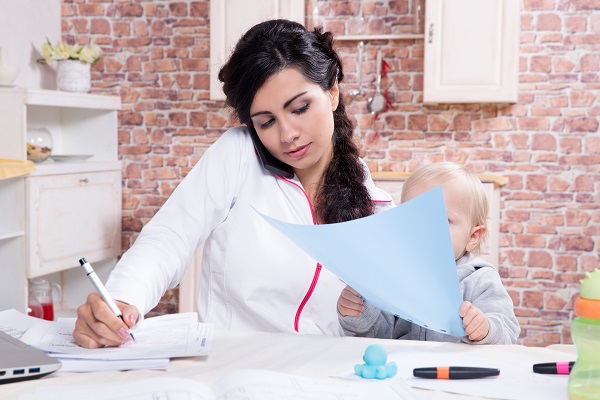 Lean On Your Partner
"When my first child was born, people at work would say, 'How do you come to work and leave your beautiful baby at home?' I actually had a lot of guilt about how I didn't feel more guilty I was working. The guilt kicked in when my son learned to talk. He had friends who had moms who were at home, and he wanted to know why I couldn't pick him up after school. Luckily, I have a really involved partner. At night when the kids are sleeping, we can sit on the sofa and talk about everything that happened that day."
— Kristy Sekedat, 39, Forensic Scientist in Ann Arbor, Michigan
Say Yes Whenever You Can
"If I have a deadline for a book and my son comes over with a Star Wars figure and says, 'Dad, will you play with me?' the answer is always yes. I know that 15 minutes of playing with Star Wars figures will make him so happy. And that helps me with the guilt. I divide my day by the type of tasks I have to do: the ones that require everyone to leave me alone, and the ones I can do while sitting with my family. I do those menial tasks—which a lot of people do during the day—while watching TV with my family. Not wasting a single minute means I get more minutes for them."
— Matthew Dicks, 47, Fifth-Grade Teacher and Author in Newington, Connecticut
Own Your Choices
"My daughter is almost 1, and any time I spend away from her is time I question inherently. Before I went back to work after she was born, I thought I would feel so guilty every second of the workday, but it turns out I don't. Anything that makes me feel good about myself as a person makes me a better mom. I have a mantra: 'I am showing her what a strong woman looks like. I am showing her what it means to have a career I made for myself and built out of nothing.' She's still too young to understand, but I like to think she sees it in her own little way."
—Jamie Stelter, 36, Traffic Anchor for NY1 in New York City
Designate Family Time
"My three kids have grown up coming to work with me, knowing the people I work with and understanding the important things we do. It's also important to me to build in family time. Every Tuesday night is our night, and that takes priority over anything else. We read a book together, we do a fun activity together, we write down what we're grateful for, and we pray together. It starts a discussion and gives us a chance to talk about what's coming up in our week. I enjoy having a life that's fulfilling at home and in the world. I want to show my kids that my life is bigger than just myself."
— Yasmin Diallo Turk, 41, Evaluation and Compliance Analyst at the Nonprofit Safe Alliance in Austin, Texas
Create Strong Bonds
"Both my kids started daycare at three months old. I've coped with the guilt by breast-feeding them for so long. I breast-fed my first until she was 3, and my youngest is 20 months and I still breast-feed her. Taking my full maternity leave, breast-feeding as long as I can to make sure the bond is there, and spending quality time with them are my ways of not feeling the guilt. I also decided to be a class parent—it has helped me stay involved and get to know the parents of the other kids in the class very well."
— Ninon Marapachi, 40, Head of Hedge Fund Origination at Bank of America Merrill Lynch in New York City
This article was written by Jane Porter from Real Simple and was legally licensed through the NewsCred publisher network. Please direct all licensing questions to legal@newscred.com.