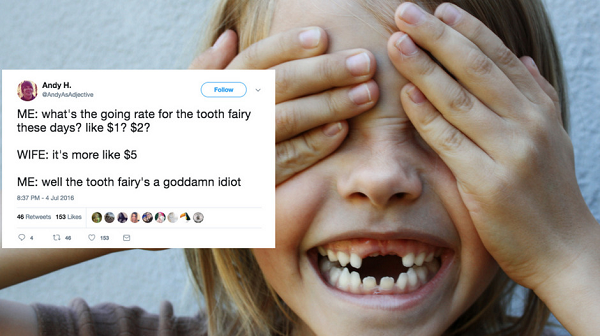 As a kid, the idea of the tooth fairy can be magical, fun, even thrilling. As a parent, it can be anything but.
If you have ever freaked out after hearing how much money that fluttering creature brings your kid's toothless friends, have woken up in the morning panicked because you realized you forgot to shimmy some money under your child's pillow, or have just gotten downright frustrated with the tooth fairy, you're not alone.
It's no wonder people have a hard time determining the tooth fairy's payout in their own homes ― the rates are all over the place.
The mythical dental sprite's reward has recently decreased, according to multiple surveys.
The Original Tooth Fairy Poll (yes, that is a thing) from Delta Dental, which has been recording rates since 1998, saw an all-time high average in 2016. The fairy was forking over about $4.66 per tooth then, a 75-cent increase compared to 2015. For their latest results, Delta Dental surveyed 1,007 parents of children ages 6 to 12 in December 2017. Results showed the tooth fairy paid an average of $4.13 per tooth last year.
In 2015, Visa found that $1 was by far the most popular amount for the tooth fairy to leave behind, based on 4,027 telephone interviews conducted from May to June 2015 (32 percent of those surveyed reported this amount). The average per tooth was $3.19.
The fairy was a bit more willing to part with her money for some kids, though. Almost one-fifth of the Visa survey participants said the fairy offered $5 for a tooth, and about five percent said the flying being left $20 (!) or more.
If you're thinking, "I never got that much from the tooth fairy when I was a kid," a survey from LendEDU, a personal finance marketplace, might make you think twice. The company surveyed 400 baby boomers, 438 generation Xers and 400 millennials in an online poll in March and asked how much they received from the tooth fairy as a kid.
LendEDU's results reflect that baby boomers (ages 54 and older) received an average of $0.69 per lost tooth. Generation Xers (ages 39 to 53) received $1.39, while millennials (ages 24 to 38) got $2.13. The company adjusted the rates for inflation using the U.S. Bureau of Labor Statistics' inflation calculator and found that on average, the tooth fairy left behind about $5.77 per tooth for baby boomers, $5.54 for generation Xers and $3.72 for millennials. That fairy is quite generous.
Of course, these surveys only give you a sample of the tooth fairy trends in the United States. Factors like the state of the market and a family's income can play significant roles. And if you want to get creative with what the tooth fairy leaves, there are always Etsy and Pinterest.
There is one stat, though, that might make caretakers playing the role of fairy breathe a sigh of relief.
According to the most recent Original Tooth Fairy Poll, more than half the parents surveyed (about 55 percent) said they the tooth fairy may have missed a visit a time or two.
At least you've got that going for you, dental liaisons.
This article was written by Taylor Pittman from Huffington Post and was legally licensed through the NewsCred publisher network. Please direct all licensing questions to legal@newscred.com.