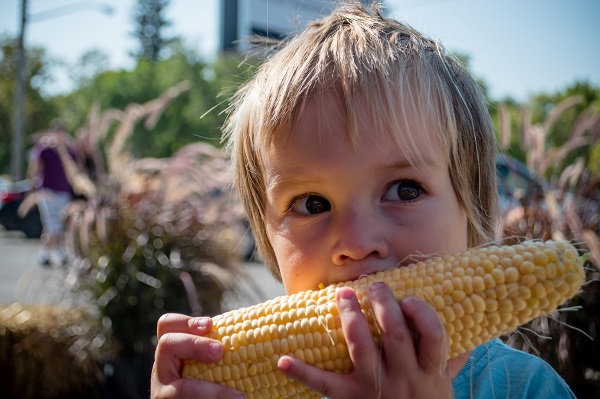 I used to stand in front of the blender so they couldn't see. Sautéed zucchini, red and yellow peppers, spinach—I'd throw it all in there quickly with the tomato sauce and breathe a sigh of relief when the crunching would stop and the swirling would begin. Meanwhile, my boys (4 and 6 at the time) would play with their Legos on the kitchen table none the wiser. Sure, I could openly put some veggies on the table (exactly two: broccoli and carrots), but that never felt like enough.
Then one day, a letter came home from my son's kindergarten PE teacher announcing a nutrition challenge she called Strive for Five. Based on the National Cancer Institute's recommendation to eat five servings of fruits or vegetables each day, all kindergarten classes would compete to eat at least three servings (but aim for five) of fruits or vegetables a day to celebrate National Nutrition Month in March. All the parents got a handy calendar so we could keep track. The reward? The kindergarten class with the most servings got to choose an activity for PE.
That night, as my husband and I were munching on potato chips on the couch, I remembered that the letter said that the challenge might help parents eat better, too. That promise that we'd start eating a Mediterranean diet this year hadn't really been working out.
"What do you think if we all did the challenge?" I said.
After my husband finished his delicate, crispy, so-salty-it-sings potato chip, he wiped his hands and said he was all for it. He reminded me that March is the beginning of Greek lent, when he cuts out meat and dairy for 40 days. If I wanted, I could join him, too. Over breakfast the next day, we told the kids that we're all going to get in on the competition.
"Even me?" said the four-year-old.
"Yes, even you," I said.
"But what do we get?" my kindergartner asked. I told the boys that, just like the school reward, we could do an activity of their choice for a day. The outing could be anything they wanted, within reason, like going to the aquarium or the science museum or the arcade (read: family time).
The boys grabbed some magic markers and decorated their calendars with pictures and added their names. I posted them on the fridge at eye level so they could easily mark them up every day. They boys were so excited, they wanted to start that day, but I told them they'd have to wait until March 1.
While the idea seemed perfect for our family, because we're naturally a little competitive (my husband even told the boys, "I'm going to destroy you!"), I honestly didn't think my kids would follow through. Take our attempt at chore lists. They got tired of being asked to do a chore and mark up their magnetic chart, and I got tired of asking them. My boys were certainly acting excited about the fruit and veggie challenge, but I thought maybe at the end they'd forgo the veggies and focus only on fruit (they eat fruit like I eat chips). Or they'd give up altogether.
But amazingly, they totally owned it.
"Does this count as a serving?" the boys would ask me, nearly every day. Five broccoli florets, check. Four raw carrots, check. Spinach with garlic, check! Two spoonfuls of sautéed mushrooms, absolutely check! Toward the end, my kindergartner even discovered the joy of salad sprinkled generously with vinegar. The boys totally motivated us, too; my husband and I were finally eating like we were in the Mediterranean. Every time the boys marked up their chart, they grinned, as if they were getting away with something. Little did they know I thought I was getting away with something, too.
It may have worked because they could take care of their own chart. Or maybe they had the arcade in mind, but I also think they had a chance to outshine their parents every day. When do kids get to do that? When my kindergartner was tallying up his servings for the day, he'd also count up everyone else's. "Ha! I have… 7 and Daddy has only 5!" Every week or so, he'd add up everyone's total servings for the month so far, just to see who was pulling ahead (math skills!).
My little one, I must admit, fell off the wagon toward the end. In the last week, he started saying "I don't care if I win," with chocolate on his cheek. But my kindergartner cared very much, and during the month he started reading nutrition labels on almost everything we ate ("Mom, this orange juice is good for you. It has no sodium!" he even said to me).
On the last day, my kindergartner and my husband were neck and neck. "You're totally going down!" my husband said to him at breakfast. After our boy left the room, I whispered to my husband that maybe we could let him win, just this once. "He's come so far, and he totally deserves it," I said. He just smiled at me.
At the arcade, our boys shot up dinosaurs as my husband and I sipped on our coffee, thinking we were totally owning this parenting thing. My kindergartner's class won the competition at school, too. Mostly, my kids' good eating habits stuck around after March. They do eat more veggies than they did before the challenge, but I'm not above mashing sweet potato into pancake batter.
This article was written by Cheryl Pappas from Real Simple and was legally licensed through the NewsCred publisher network. Please direct all licensing questions to legal@newscred.com.