Outdoor family activities don't have to require a lot of planning or trips to the store. Here are five easy, low-cost ideas for working moms.
For any mother, time with your family is extremely valuable, especially when balancing that time with a career. You want to plan fun, entertaining activities to do with your children, but you also need ideas that don't require a lot of time or an unwanted trip to the craft store.
Now that spring is in the air, you're likely looking for ways to have fun outside as a family. These five outdoor activities are perfect for working moms who need simple yet creative ideas that don't require much preparation.
1. Sidewalk chalk art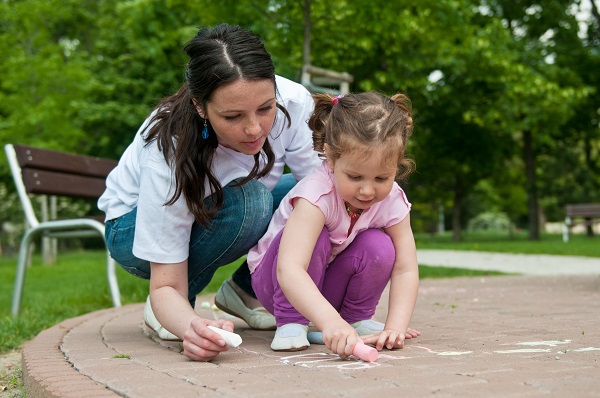 Take the coloring outside! Sidewalk chalk is a great item to have on hand for when your children get bored. You can take turns tracing each other, turning yourselves into superheroes and other fun characters. Develop your child's gross motor skills by playing hopscotch together. You can also use sidewalk chalk to build your child's knowledge of shapes, letters or numbers. For example, try having your little one run or jump to circles, squares, triangles and rectangles as you name each shape.
---
2. Sensory scavenger hunt
Photo: iStock
This can also be an opportunity to teach your kids about nature.
Turn scavenger hunts into sensory scavenger hunts! Identify the smells and sounds of nature together. It's a simple way to have a scavenger hunt without requiring time to develop clues or buy additional resources. See what your children can find, whether it's birds chirping or flowers blooming. If something sparks their curiosity during the scavenger hunt, let them explore and ask questions.
---
3. Car wash
Photo: iStock
A fun activity that checks a chore off of your To-Do list.
As a working mom, your to-do list may be a mile long, so get the whole family involved with chores like washing the car. Your little ones will enjoy splashing in the water and playing with bubbles! They can also wash their trikes, bikes or toy cars! Car washes are fun, and doing them together is a great way to check something off your to-do list.
---
4. Bubbles
Photo: iStock
Kids of all ages love bubbles.
If your children love making bubbles during car washes, they'll love blowing bubbles too. The best part? You don't even have to purchase bubble solution, which can go quickly with accidental spills. Homemade bubbles are fun to make and may save you a little bit of cash.
The simplest recipe only requires one part liquid dish soap to 15 parts water. Combine the soap and water in a large dish or bucket and stir gently. Dip your favorite household wand like a slotted spoon or coat hanger. Have some fun cookie cutters available? Those are great for making bubbles into different shapes!
---
5. Evening walk
Photo: iStock
Going for a walk is also great exercise for the whole family.
After a work day, get outside with the children for a walk around the neighborhood. You can even grab a couple slices of bread and walk to a nearby park to feed the ducks.
An evening walk is a great way to release the stress of the day and let your children get rid of excess energy before bedtime. Take this time to catch up as a family and learn about each other's day. You may notice this quality time together becoming a treasured family ritual.
Activities that are engaging don't have to be complicated or expensive. After a long day of work, you're ready for quality family time. Make it fun and easy with these activities.
Leslie Marley is the Director of Education and Curriculum at U-GRO Learning Centres, a premiere provider of early childhood and preschool education in Central Pennsylvania. Marley has worked in the field of early childhood education for more than 20 years. She is passionate about serving and empowering children and families.
This article was written by Leslie Marley from Working Mother and was legally licensed through the NewsCred publisher network. Please direct all licensing questions to legal@newscred.com.