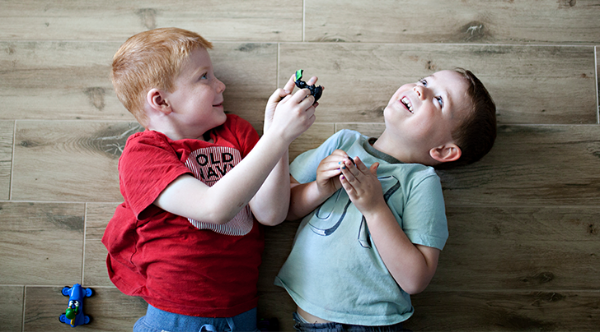 Recently, I was lamenting to my friend (a kindergarten teacher) that I wanted my son to have more playdates but didn't know where to begin. I'm not super close with the other parents, and the idea of calling up a near stranger and asking her to come over with her child at 11 a.m. on a Saturday felt, well, daunting. More to the point, I actually didn't even know whom to approach, since my son's narration of his life at preschool is suspect, to say the least. (Oh really? Your best buddy is Marshall from Paw Patrol?)
My friend (never one to let me wallow) had a genius idea: Ask his teachers who he plays with.
Emboldened, I texted the head teacher, Diane, letting her know that I was looking to set up some weekend playdates and wanted her advice for who to invite. Within 30 seconds, she had responded: Caroline, Jake, Asher and Rosie.*
I then dug up the preschool listserve and emailed the moms one by one. "Hey! I was chatting with Diane the other day, and she mentioned that our kids have been playing together really well. We'd love to host a playdate so they could see each other on the weekend some time."
The response was overwhelming. As it turns out, everyone was feeling the same way—wanting to plan social get-togethers but nervous to make the first move. And, because I was inviting kids we knew he got along with, the playdates have, for the most part, gone really well. (What's a pee accident or two among friends?)
The takeaway: Your child's teachers are angels from heaven. Ask them for help. And give them really nice Christmas gifts.
*Names have been changed to protect the non-toy-sharers
This article was from PureWow and was legally licensed through the NewsCred publisher network. Please direct all licensing questions to legal@newscred.com.