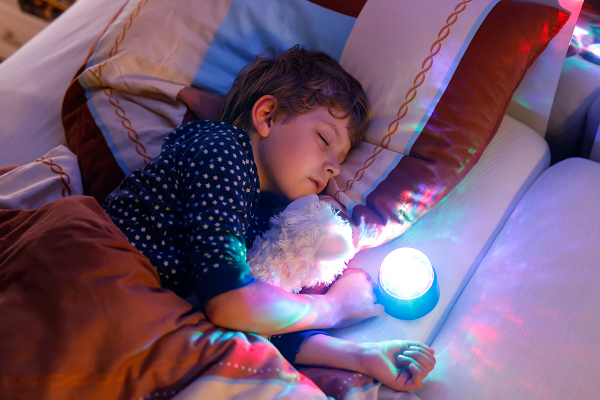 When adults experience a particularly stressful day, they have coping strategies in place to wind down before bed. Some rely on herbal tea, some choose a good book, some get lost in a favorite show, and others pour a glass of wine.
Did you know that preschoolers are also prone to experiencing stress throughout the day? The difference is that they don't necessarily know how to cope with that stress. When the lights go down, the stress creeps in.
Preschoolers spend a fair amount of time each day engaged in fantasy play. They get lost in a world of princesses, superheroes, construction sites, and even monsters. And they truly enjoy every second of it. Fantasy play gives preschoolers a chance to try on new roles and gain mastery over new, and sometimes scary, information.
But it's difficult to simply leave it behind. Cognitively, preschoolers struggle to separate real from imagined dangers. Just as adults struggle to process the stress of the day, preschoolers are flooded with things they learned at school, on the playground, in books, and on TV. They can't just turn off their imaginations the minute the clock strikes seven.
Add to that the fact that somewhere between the ages of 3-4 most kids become aware of the fact that there are real dangers in this world (strangers, cars, dogs, getting lost, etc.) and it's no wonder some preschoolers struggle to settle down at night.
Not to worry, there are ways to decrease nighttime stress and improve the bedtime transition.
Establish a routine: Preschoolers need between 11-14 total hours of sleep per day. Preschoolers experience less stress when they have some control over their environments and they know what to expect. Keep the bedtime consistent and create a relaxing bedtime routine that works for you. Put a sign on the door with pictures of the various steps of the routine so that your preschooler knows exactly what to do each night.
Confront daytime stress: Not only do preschoolers have their own stressors, but they also pick up on ours. Factor in 10 minutes at the end of the day to sit and talk about worries and stress. Label it for them. Although it seems like they move on quickly, preschoolers are prone to carrying big feelings around. Help your child verbalize her worries at night to ease into a relaxing bedtime routine.
Tell a relaxing story: A great way to ease your child into sleep is to tell a five-minute relaxing story. Turn out the lights, lie down on the floor next to the bed, and weave a story that helps your child drift off into positive imagery. It might be a walk on the beach, a picnic in the park, or a trip to a magical garden. Allow your child to help choose the destination and then tell the story in a quiet voice.
Provide a happy thought: Many kids worry about having nightmares. Ironically, worrying about the possibility of nightmares increases the likelihood of nightmares. Leave your child's room on a positive by whispering a happy thought in her ear. "Have a nice dream about fairies", gives your child positive imagery to hold onto as you leave the room.
Provide reassurance: Preschoolers are prone to separation anxiety at night. It's lonely in there when the lights go out! They might fear for their safety or wonder when you will return. Developmentally, most children don't understand the concept of time until somewhere between ages 5-6. Provide reassurance that you will see your child in the morning and you will check on her before you head to bed. "I can't wait to play with you tomorrow morning," reminds your child that sleep is temporary.
Do your preschoolers struggle to get to sleep at night? What strategies work in your house?
This article was written by EverydayFamily from Everyday Family and was legally licensed through the NewsCred publisher network. Please direct all licensing questions to legal@newscred.com.