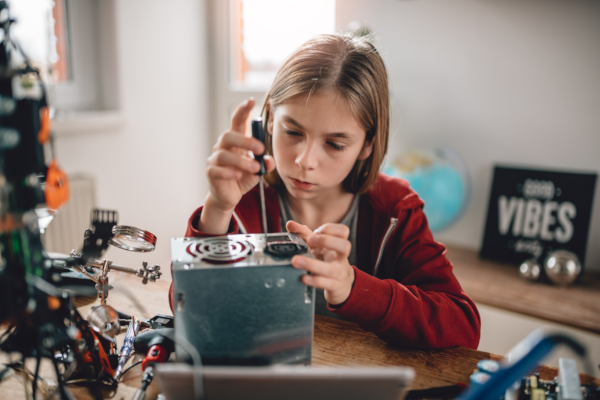 Creative ways to turn your child into a little scientist.
There's a growing public conversation about the importance of getting kids more engaged in science, technology, engineering and mathematics (STEM), to prepare them for their futures. Our economy, workplaces and society require more women and men who excel in these fields and can drive the innovations that will make our world a better place. Despite its obvious importance, it isn't always easy to get children excited about STEM education.
That's why I penned The Imagine It Book: Discover, Create and Invent Our Amazing Future, which offers some tips on fun ways you can get your children excited about STEM learning. Here are a few of my favorites:
1. Encourage Curiosity
Kids ask a lot of questions, and sometimes we just don't have the time to field them all in the moment. Buy a small journal or spiral bound notebook that you can keep with you when at home, in the car or out and about in your community. When your children ask questions that relate to science, technology or how things work, write them down. Set aside time each week to sit down with the book and a computer and find the answers to those questions. This experience not only informs children, but also helps them understand the research process so they can answer their own questions and fully embrace their curiosity and drive to discover new things.
2. Plan a Field Trip
We don't all have the knowledge or experience to be informed STEM educators for our children. Luckily, most communities have institutions and experiences that can help with this process. Museums and libraries often have programs for children to help them experience STEM topics firsthand. Plan field trips to places or events in your community that your children will find interesting. Create fun research assignments for your kids prior to the field trip so they are flexing their curiosity muscles and preparing their minds to fully engage in the experience and understand the information being presented. Afterward, let them share pictures and stories from the experience with the family at meal time or when everyone is together.
3. Take it Apart
We don't generally encourage the kids in our lives to destroy their things, but it can be a good exercise from time to time to let children really dig into how things are made and put together. Some examples of items that are fun to take apart include clocks, radios, typewriters, old computers, toasters or mechanical toys. For safety, make sure wires are completely cut off from electronic items and that there is no power source for the item. For ideas and guidance, search "take things apart" in YouTube for a ton of tutorial videos. Some kids may really get into watching these videos even if they aren't disassembling the items themselves.
4. Make Them Reporters
Most children have someone in their lives who creates things or works in the fields of science and technology. Arrange for your child to interview one of these people. Help them do research on the family member or friend's area of expertise and put together a list of questions. You can also help them video the interview so it can be shared with others via your social media or at a family event.
5. Make the World a Better Place
It's important to help children identify issues that are important to them and develop a lifelong habit of giving back and making a difference. Help your children identify a cause or issue that is close to their heart like helping animals, the environment or developing cures to diseases. Then supervise them as they do research on the internet to find organizations that are working on the frontline of these issues. Most nonprofit organizations have interactive materials or videos that help explain how their research or innovation is making a difference in their area of focus. You can also help kids set aside a portion of their allowance each week to support the organization's work so they can feel like an active part of the solution while they are learning.
---
Ellen Sabin is the founder of Watering Can Press and the author of a series of award-winning books that "grow kids with character." Watering Can Press books are used widely by companies to support employees (through ERGs, Events, EAPs and other touch-points), clients (giving branded copies to connect with the family market for brand outreach, marketing and sales) and communities (through foundations, CSR, volunteer programs or donations to partner nonprofits). Ellen speaks at conferences and events to adults and hosts reading events with children on the topics of her books.
This article was written by Ellen Sabin from Working Mother and was legally licensed through the NewsCred publisher network. Please direct all licensing questions to legal@newscred.com.