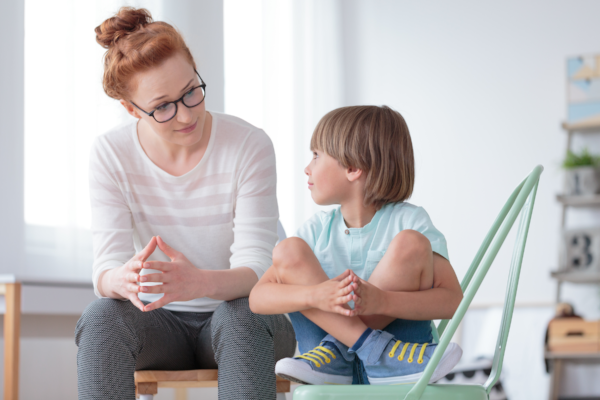 Be ready to listen and help create a plan.
A creeping feeling of dread comes the first time the teacher reaches out. Early in the school year, the teacher pulls you aside or sends an email saying,"Can we find some time to talk?" Most parents know in the back of their mind some behavior challenges are on the horizon, but don't know how they'll manifest in school. As a parent, the conversations that follow can be daunting. But you can do your child, and yourself, a world of good if you hone in on what your child's teacher is saying. Here are five steps to engage with your teacher in the most productive way possible.
1. Don't Panic
The teacher isn't judging you. She isn't judging your child. In fact, everybody involved is aligned on the same goal: how can we create the best possible experience for this child? Of course, you're going to have anxiety over the wellbeing of your child, so it's not easy to put it aside. But in its place, view the conversation as an invitation to start a dialogue. Until you have more information, you don't want to make assumptions about the road ahead.
2. Listen
Your teacher spends a lot of time with your child, especially in the early grades. Teachers know your child and want to see him succeed. As the conversation begins with your teacher, gather as much information as you can. Ask her to be specific about the behaviors that have been observed, and why they are concerning. Here are some specific questions you can ask:
How big of a problem is this? The teacher could simply be telling you about a single challenging episode, just so you know, with no long-term plan of action necessary. Or, they could be clueing you into a more significant problem.

What is the nature of the problem? It could be things like trouble with transitions, or aggression.

Should we be pulling in more resources? There are many things a school can do to help a kid who is struggling, including specific supports at school (sometimes called Response to Intervention or RTI) all the way to arranging for an evaluation for your child. An evaluation is a more significant step, but also opens up doors to increased aid and professional services your child may be entitled to. Schools are responsible for creating learning environments for all students.

What supports might help at home? The teacher will have some ideas about tools and methods that might work at home. Even better, they can match the system at school.
3. Build a Team and Stay Positive
Everyone wants your child to succeed. If you get defensive, it makes the team less productive. If the teacher is helping you understand the onset of more complex issues, the two of you are going to have to work together to communicate with doctors and insurance. You'll want to plot out strategies and understand how you can navigate your specific school to create the best environment possible for your child. Your teacher isn't blaming you and wants to work with you. Complex problems are going to mean stepping into a world of increased supports with a catacomb-like vocabulary. Your teacher and the school staff have been there before. At the point you get here, you'll also want to turn to your pediatrician, and start thinking about additional professional services (like a psychologist or clinical social worker).
Sometimes, despite your best efforts, you won't be able to talk to school staff with trust. While you shouldn't give up on re-establishing that trust, there are members of your community you can turn to. Many communities will have a SEPAC (special education parent advisory council) that can help. A special education advocate can also be a starting point, since they'll know the system. Finding a local advocate is usually as simple as turning to your local parent community (a Facebook group in your hometown) and asking for recommendations.
4. Follow Up
Once a teacher alerts you there's a problem, try to check in after you first talk. This is going to be the first clue on how seriously the teacher takes the problem. If the check-in suggests everyone has moved on, that's great. If the teacher is talking about supports that have been put in place and how everyone is responding to them, then you have a clue they view the challenges as something that will persist. If supports are ongoing, try to keep checking in, and see how things are progressing. Even if your child is receiving supports, you should still expect progress. Schools are getting better about taking data and should be able to tell you how things are going.
5. Find Ways to Support Your Child in the Home
You can extend your child's learning into your home. What this looks like will depend on what challenges you're facing. Your teacher might have some recommendations, or you could echo the supports being used in the classroom. If you've reached out to your doctor, then they might have some ideas as well. I personally tend to recommend methods that reward kids' innate drive to learn through exploration. At some level, we all know we're not going to be able to reason kids through behavioral challenges. But we can tap into experiential learning. Sports can do this; some kids find a place where they latch onto the teamwork aspect. Surprisingly, video games can sometimes pull off the same trick, especially if the family can play together and develop ways to cooperate.
Jason Kahn PhD is a dad, Researcher at Boston Children's Hospital, Instructor at Harvard Medical School, Co-founder & Chief Science Officer at Mightier. Mightier uses the power of bioresponsive games to help kids build and practice calming skills to meet real-world challenges.
This article was written by Jason Kahn PhD from Working Mother and was legally licensed through the NewsCred publisher network. Please direct all licensing questions to legal@newscred.com.