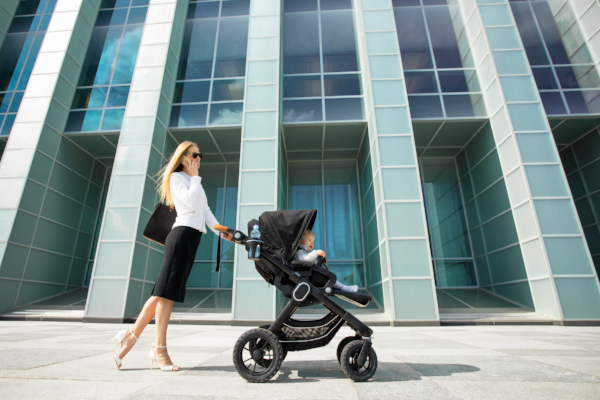 Even though this article was originally written with working mothers in mind, this is great information for all parents!
It might seem crazy, but it's totally worth it.
It's 7 p.m. on a Wednesday night, and my phone rings. I interrupt my midweek recap with my assistant and best friend, Erin, to take the call. We've closed on 12 homes this month, and I have the late-night call log to prove it. This is my busy season, as spring and summer usually are. Business aside, I have one daughter moving into college this week, I'm planning my Nan's 90th birthday, and I have a radio segment this weekend to discuss the market.
This is my life in all its chaos. Among my many titles: multi-million-dollar real-estate producer with Coldwell Banker, owner of real estate brand the Pittsburgh Property Diva, fashionista and animal lover, but I am first and foremost wife and mother. Together with my husband, Chris Klein, we have a blended family of SEVEN children ranging from the ages of 10 to 25, three dogs and three cats. That's right. There are nine humans and six furs in this modern Brady Bunch.
While my career is flexible and allows time for my family, it's demanding. There are no set office hours, and we work around the clock. Just this week I'm launching five new listings along with my property showings, and I have a closing scheduled for Friday and seven open houses on Sunday. Seven open houses! I wasn't lying when I told you we work around the clock.
Real estate doesn't exactly offer a set schedule, and the time when you'd like to wind down for an evening with your children doing homework, running errands or carpooling is often overlapping with business. A set schedule isn't offered, but it's what I've had to create to juggle both roles as mom and agent. So, what's my secret? How do I keep the chaos in order? I have a plan of action and stay routine-oriented each day. But I'll let you in on the real secret … boundaries. Unapologetic boundaries.
Women seem to fear this word. So many of us struggle with boundaries out of guilt, fear or mere pride. Reason being that today's woman is simply expected to be it all. We live in a world where we're no longer "homemaker or working woman;" usually we're both. We're the modern-day superwoman rocking many hats as mom, wife and career woman. These expectations we put on ourselves forbid us from setting healthy boundaries, sometimes to our own detriment.
When I learned that the secret to being it all really was dividing and conquering, these barriers I set didn't seem as crazy. Over the years, I had a really strict schedule in order to accommodate my children's needs. I'd only show houses on Tuesday and Thursday evenings for many years. Sometimes that meant seeing four different clients in one night just so I had openings throughout the week. This term gave me some sense of normalcy and routine in an otherwise fast-paced industry.
When my children were really young, I had to learn not to be afraid to ask for help. There are plenty of people who would love to just sit and hold a baby for two hours while you take a nap and that doesn't make you any less of a mother. Our health and wellbeing is most important as moms, so when your kids nap or are at school, try to be easy with yourself: rest, eat, exercise, connect with friends. How else will we run the show if we're not revitalized, ourselves?
The thing is, moms, sometimes life has to be on your terms. The way I see it, we're the ringmaster of this circus, and it's our job to coordinate and collaborate to keep things running smoothly. Is it always easy? No. But balance and boundaries run hand in hand. I haven't exactly mastered the natural "zen" we all seek from in life, but I can say that things run fairly smoothly at Diva HQ after years of experience. I manage to juggle life as mom, wife and agent while still making time to treat myself to a spa day here and there, guilt-free.
Setting your own guidelines can be a scary thing. I get it. The mom guilt is real. But if we want to breeze through this world without losing our sanity, we have to drop the guilt and get used to the word boundaries. The take-all? Take time for you. Time for your children. Time to connect with your hubby. Just two weeks ago, Chris and I fled off to Chicago to see Pearl Jam for our anniversary. Maybe I wouldn't have that luxury now without those years of practicing the balance. Or maybe it's all because I gave up cooking three years ago. You make the call.
---
Lauren Klein is a multi-million-dollar real estate producer with Coldwell Banker, and the owner of Pittsburgh Property Diva. Her successful real-estate career lit a passion in her for mentoring and empowering women in business, and she does so with her new networking series #DivasDoingBusiness.
This article was written by Lauren Klein from Working Mother and was legally licensed through the NewsCred publisher network. Please direct all licensing questions to legal@newscred.com.